EGX 2017 Day One: Ninten-day
Today was my first day at EGX 2017, and I wasn't really sure what to expect or what my plans would be outside of the interviews I had arranged. Well… sorry I had an idea of one thing I was going to do as soon as I got the email about the game being there, so that is where I will start.
Detroit: Become Human
As soon as I got in the arena I went straight to the Detroit: Become Human queue, as I could not wait to get my hands on the new game by Quantic Dream. Since the E3 2016 trailer I just wanted to get my hands on the game and see what it is like. What I actually got to play was, what was shown at E3 2016.
I was informed when going in that the game is only running on the PS4 and not the PS4 Pro at EGX, but I was still blown away by look of the game. It plays very much like what you would expect from previous entries in the Quantic Dream library, but there was some features I really liked about the game. The main one being the investigation part, which worked towards the possible success of you approaching the android on the roof – basically if you investigated everything to 100% you success rate increased. In the time I had with it I really didn't have time to look at or try to figure out the (sort of) flash back scenario's to 100%. When I went out on to the roof to face the hostage situation everything seemed to be going swimmingly on calming/talking him down… until I told him the truth. Which resulted in the ending with me saving the girl, and falling to my own demise.
But, starting my day with Detroit: Become Human was a great idea, and the game was really what I thought it was going to be – just need it released now, so I can play more!
After this, I thought it would be a good idea of the layout of the expo and get an idea where my interviews were today – rather than be lost looking for them close to the time. During in this I stopped and got my photo taken with Rabbid Kong near the Ubisoft booth, to enter the giveaway they were running (see this picture below).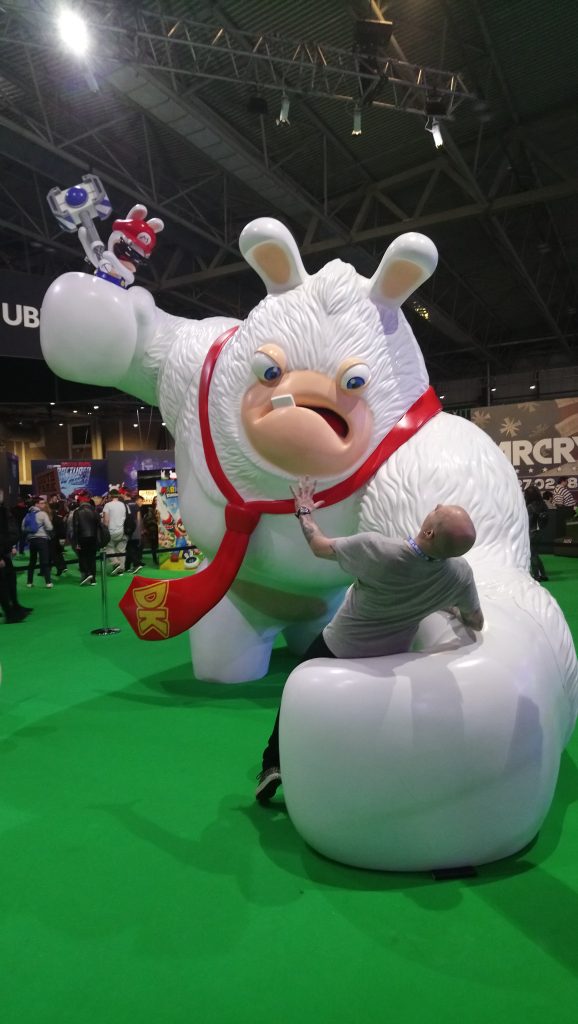 Lightseekers
This was my first interview for the day, as I met Chris from Play Fusion (the Lightseekers team), who talked me through a demonstration of the game (this will be added to my YouTube Channel on my return). What is Lightseekers?… Lightseekers is a mobile device game (available on both Android and iOS), where it mixes playable figurines and augmented reality cards into one.
We looked at figures first, where it was explained that the figures are 7 inches tall, are fully articulate and have voices.
What I was impressed with was these figures, and unlike the likes of Skylanders and Disney Infinity you do not need a portal to get them into the game. Each figurine can be connected to your device via bluetooth – so no portal or additional wires are needed.
The game comes in two parts; an RPG style Adventure game (using both the figures and cards) and an Actions mode (using the figures). The RPG side looked fairly detailed from what I had seen and the interaction between that side of the game and the figures was great. For example; if you took damage in the game the figures would light up and let you know they low on health. In relation to movement on the game it can be done with the figure or simply tapping the screen. The game includes a levelling system for the weapons and accessories you can also get, and can be used across all the figures you have.
We then looked at the Adventure side of the game, which is playable mini-games. I took the control of Kora and Chris took control of Jax in a two player game, and we looked at one of these mini-games where we played coin chase. But, there are many other different action games that will be available.
I was really impressed with the lack of latency between the figures and the application, and how smoothly it seemed to run and work. I really can see this game being a big hit with the younger audiences, which from my conversation with Chris it seemed was the aim of Lightseekers.
After this I moved over and got a lesson in the trading card game from Lightseekers, with a member of the team and two other EGX goers. We played this in a four player game one as a different class card deck. The game took about 50 minutes to complete as a four player game (with stopping for some more explanation on cards) – but I was told two player games will normally take 15-20 minutes when you know the game and are not new to it.
Personally I have never really taken to any trading card games in the past, but after sometime with Lightseekers I was really impressed on how it worked, and how easy they have made it to understand. I would like to add with how busy the trading card area was, not with just people with the team members, but people who have been and got some cards while at EGX and are playing each other. If this was anything to go by I can really see this game becoming quite popular.
Check out more at www.lightseekers.com
Vostok Inc. (Switch)
Straight from my time with Lightseekers, I went to see the guys at Wired Productions – who made The Town of Light (read my review here). My interview was around Vostok Inc, but, the Nintendo Switch build of the game,which is yet to be released. While there I got the game demoed to me (again this will be added on YouTube Channel on my return).
Vostok Inc, seemed to take parts of multiple styles of games and mix them into one. It was explained to me as Wolf As Wall Street in Space, where it is a twin stick shooter at heart – like Superstar Dust and Resogun. You will also find yourself in battles, some free but some in a restricted area – where it was mentioned to think of geometry wars.
Your aim to make as much money as possible. From what I was shown during the demonstration there is multiple ways to make money. He started collecting some from just shooting the asteroids around the map, and then landing on a planet (it's based on the solar system) and building a mine, which would generate money for him. I was shown you can build multiple and it will add a multiplayer to how much you are earning. Looking across the updates and other buildings, you will need some playtime to build some of these by the prices – plus it will increase the price as you build multiple.
Later in the game it was explained it can become frustrating by needing to go back to planets, but you can avoid this by building an ATM to stop you needing to go back to collect the money from that planet. However, you will need to build this on every planet – again all raising in price the more you build.
Also, the game will throw challenges at you to level and unlock other parts that you will need to build, or to upgrade your ship weapons. Looking through the menu's with the team member it looks like the game offers a lot. It was explained that the game has built up quite a following on Steam and people are looking at 30 hours gameplay, and they are adding a game plus mode.
Personally I can see this game being quite addictive, especially on a handheld like the Switch, and one I will be keeping an eye on for its release. It will be likely I will get it on the Switch for this reason, for the pick and play or extended playtime in docked mode or even when travelling (like I was for EGX). I would really recommend checking this game out, definitely if you have a Switch.
Sonic Forces (PS4)
After getting these two interviews out-of-the-way, I moved on to have a look at Sonic Forces. Now, I am one of these people who feels Sonic has been dead since the release of Sonic (2006), with the exceptions of Sonic Generations and the recently released Mania. For me it looked like Sonic Forces was going down the same path as Generations, so I was eager to try it out.
I went through 3 stages of the game, Sonic mode, Old mode and Avatar mode. Sonic mode was very much like Generations, with the switch from 3D to the 2D side scrolling effect of the game – as expected this was quite fast paced with your homing attack to hit enemies. From the short stage they gave you on the demo I wasn't to sure what to make from the 3D element of the game, it seemed a bit off but, I can not seem to put my finger on why.
The Old mode was a classic Dr Robotnik (sorry I'm from that generation) fight, reminiscent of the original Sonic. However, after this fight it became a more modern fight with him as he took over a huge robot. Now, I will admit I found this second part a little tricky and died a number of times before beating it – I quite enjoyed the transformation not only in Robotnik but the difficultly level.
Lastly the Avatar mode, as you all most likely know the new Sonic has a create a character system. The demo only let you choose minimal options but I had a go nevertheless. The avatar mode level mainly consisted of the more enjoyable side scroll effect view, but at the end it was looking over you shoulder running section. But, to be fair on Avatar mode everything seemed to work and run smoothly.
With my experience with Sonic Forces, I think it is something I would consider buying when the you can pick it up and a bargain price. The demo really didn't over sell the game enough for me to think I want this game as soon as it is out.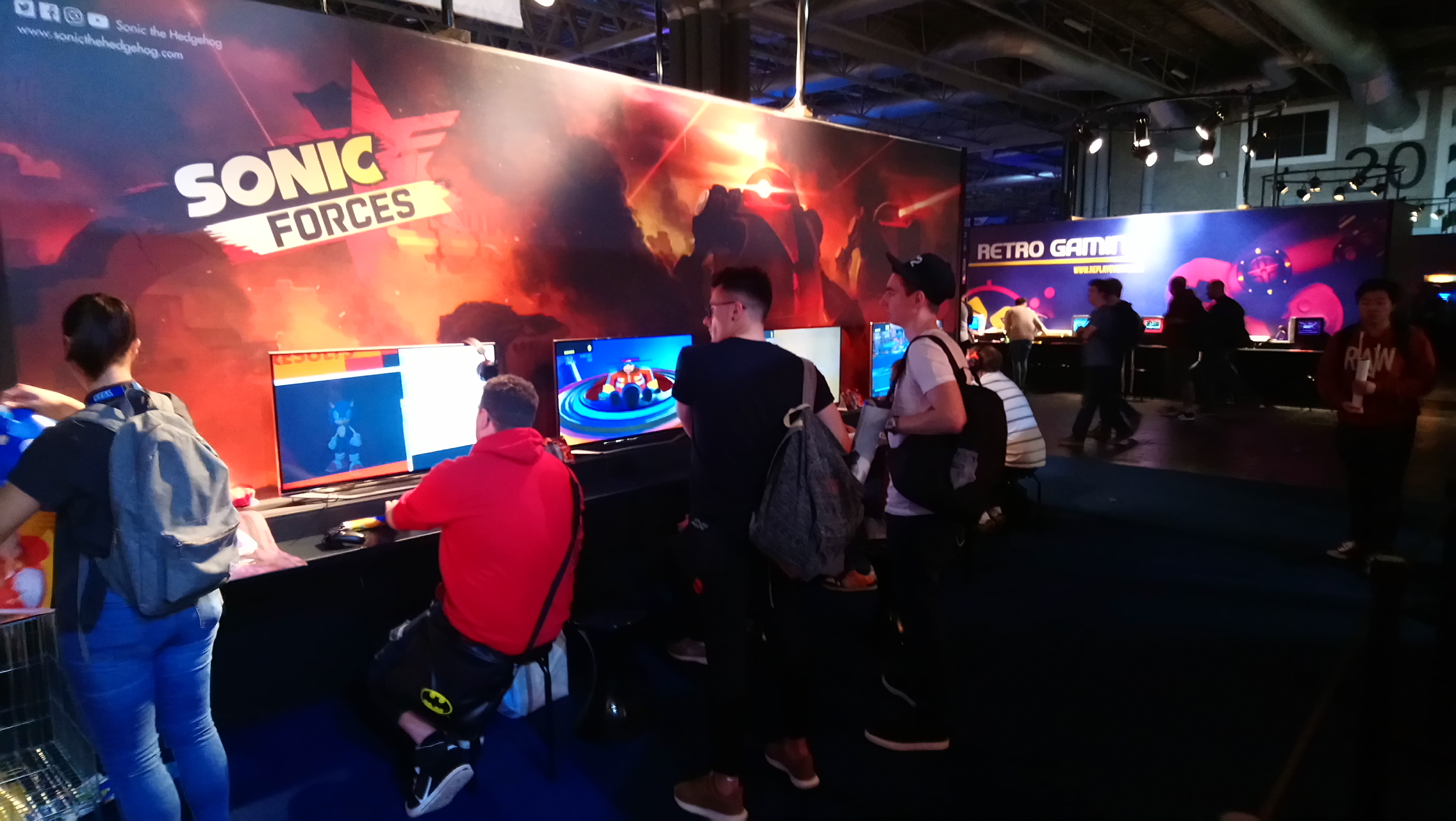 Mario + Rabbids Kingdom Battle
This is a game I have not been sure off since it was announced, so, it is not one I have been out and picked up since it was released – but, why not give it try when I could.
I was able to complete one battle in the time I was given to with the game, and I can see why people are calling a more simple X-COM (although it seemed the person watching you play was not happy people called it that). By now you all probably know what this game is with it being released, so I don't really want to touch on it that much for that reason.
From playing it I can see why it has an appeal, but I am not sure it would be something I would stick with. Maybe the issue was I seemed to pick up the game from where the last person left off, so the only tutorial I got was what the stand staff told me – which seemed very basic. Where the person next to me got the game tutorial, as that one was restarted. But, even with what I was told I got through the battle pretty easily, however, I do expect these get harder later in the game, because this was only against six standard (50 HP) enemies and one (100 HP). But, I am glad I have not picked up the game yet, I would say yes – again as with Sonic Forces I will think about when it is cheaper.
Rezzed Sessions: Great Game Writing: Working on Sunless Sea, Dragon Age, Telltale and more
I attended one of the Rezzed Sessions I thought sounded really interesting, where Alexis Kennedy discussed writing in gaming.
In this thirty minute session he spoke about the games and his games he has worked on via Kickstarter like Fallen London and Cultist Simulator. With the main focus seeming to be on his work with Fallen London, and his experience going from a freelancer to someone hiring freelancers for his games. The process and many roles involved in making the narrative for the games, and the way he tackles this situation (via spreadsheets and white boards). He also discussed the differences in the way of working, when it comes to working as freelancer with writers from Bioware who have years in that field, and other studios where people just seem to go with what you say, even as a freelancer.
Overall the session was really interesting, especially looking at it from this side. I am sure the session will appear on YouTube over the next few days or next week, and if it does I would highly recommend checking this one out.
PES 2018 with We Are Reach (Playstation Access)
The guys and gal behind We Are Reach (Playstation Access) had their own stage, where they played games. I have followed and watched their videos from the early days, and one thing I loved is watching them play games together and getting all het up with each other. So, when I seen they were doing PES 18 I had to join them.
In the end it was Rob and Dave vs two audience members, in a 2v2 exhibition match – but I was still staying. I was really glad I did as they did put on a good show, with Rob and Dave getting a bit agitated when one did something wrong, especially when Dave missed some sitters or passed the ball instead of shooting. I thought it was great the got the crowd involved in their game as well, a good show of professionalism in their job.
Another great thing was they had a rule, a goal was scored and a t-shirt was thrown into the crowd. I was luckily enough to get the first one after Dave scored in the first game. Not often I'm that lucky, and even more impressive it was my size as well.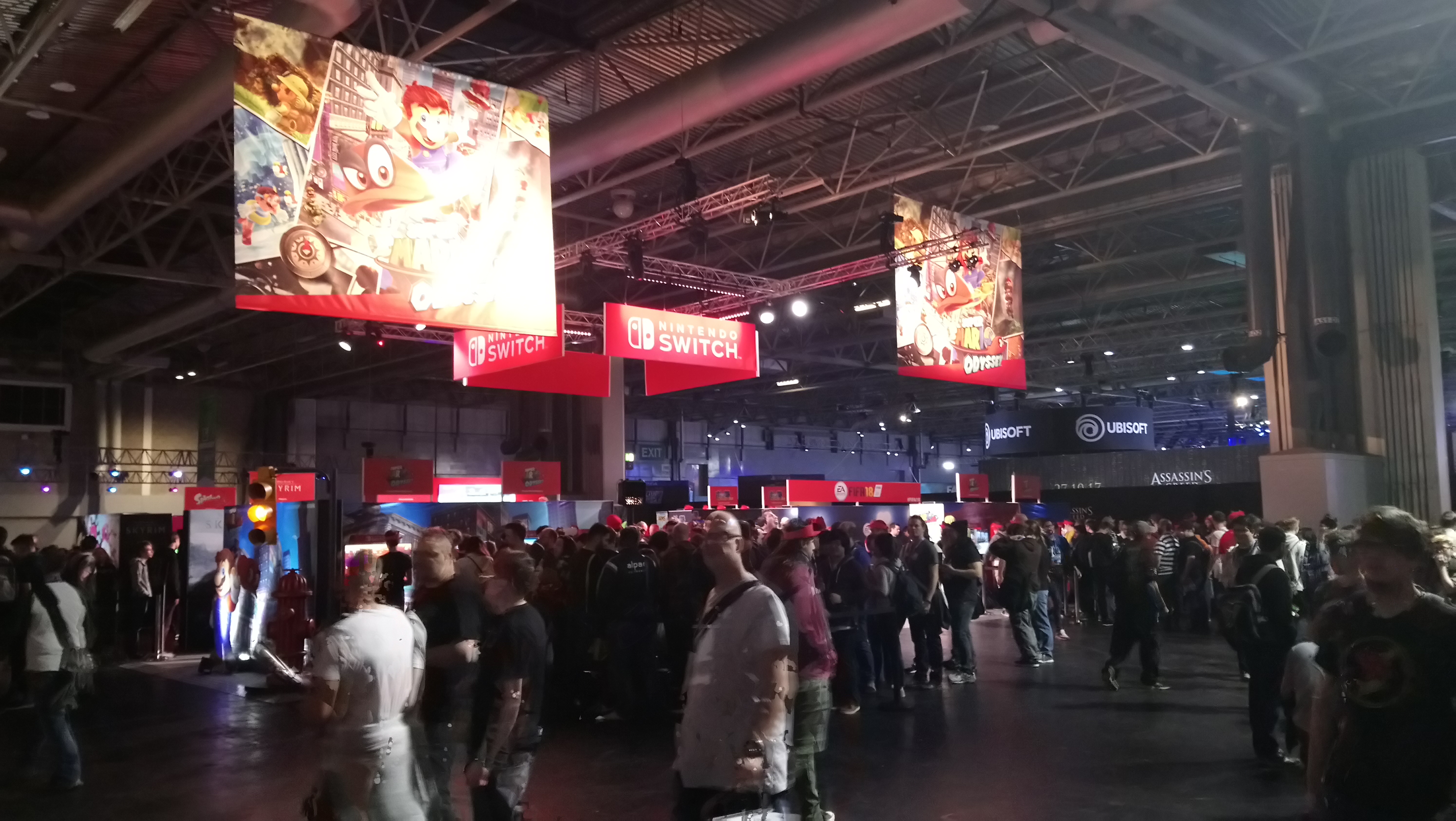 I decided to finish of my day visiting the Nintendo area, and looking at the games I wanted to try out (hence the title of this write-up).
Super Mario Odyssey
This was the main game I was wanting to try out on the Switch, but between what I need to do the queue was always a bit too long. But, later in the day I managed to join the queue when it was a lot shorter (but still a 40 minute wait).
Your game time on it was about 15 minutes and then it popped up the 'Thanks For Playing' message. But, from what I played I was really impressed with what they have done. Again, if you look back on E3 2017 Opinions article this was listed as an Anomaly (a game I wouldn't class as a winner or a loser), so I wasn't sure what to expect.
I chose to play the Metropolitan level, where you are given the job to find band members by a woman for a festival. This was where the game opened up, as you had to not only find them, but figure out how to get to them. I think I managed 3 out 4 before my time was up. The main feature of the game is of course Mario's hat and using it to take over things, and this did work really well and the transition was really smooth – unfortunately no T-Rex to take over.
Visually I was impressed, I was playing the game in docked mode, as this is how they have set-up. The only thing I wasn't impressed with was they went with the Joy-con in each hand separately at the booth – I would have much prefered them in the grip. But, this did not ruin any aspect of my experience with the game. I would say my favourite part was going into the Pixelated 3D pipes, and it changing to the old 2D Mario for those parts of the game.
After my short time with the game, I would say this game is no longer classed as an anomaly to me and would be in the winners section. This is something I will definitely be considering as day one purchase now.
Skyrim
As with Mario + Rabbids Kingdom Battle, I am not going to talk about the general game of Skyrim, as it's a old game that just won't go away. However, I wanted to know how the Switch handled it.
Personally I was quite shocked how smoothly the game was running, because it did look nice in handheld mode. One of my main concerns with the Switch versions was how would it run in handheld mode, I thought it was going to be one of those works if docked games. But, the team at Bethesda have done a great job with this port, and I think Skyrim fans with a Switch might find themselves playing through the game again. However, personally it's not one I would pick up.
Although the game did have one hick-up, it crashed when loading. Typically just after the guy at the booth said 'It loads so quickly I was shocked'. After about 4 minutes of waiting I was thinking this is Sniper Ghost Warrior 3 levels of loading – but we reset the Switch and it did load really quickly.
FIFA 18
Because I had time remaining I went to check out FIFA 18 on the Switch. Having played the demo on the PS4 before coming to EGX, I thought I would have to see how it compared.
I played the game in handheld mode again, as this was how they had it set-up. As soon as I started playing you could feel the restrictions on the Switch compared to the Playstation 4 version. It was really like picking up the PS Vita version compared to the console version. The gameplay and speed felt a lot slower paced and sluggish. Don't get me wrong I did not expect it to reach the levels of the Playstation 4, Xbox One or PC versions of the game, but, I expected a little better than what I was playing.
Meaning for me FIFA 18 on the Switch is a no-go area. I was hoping for it to do a bit more than I experienced, as it's a game I would love to have on the go again. However, that is not going to happen
To be honest though, I am not sure the Playstation 4 version will happen to my collection either – looks like it maybe another PES year for me.
So, that was first very busy day at EGX, and I will look forward to getting my interviews online once I am back from the show.