EGX 2017 Day Two: Xbox Xtravaganza
Day two of EGX 2017 is out-of-the-way, even though it was a busy day still, it did not seem as hectic as yesterday – although I still feel I did a lot again. So, let's take a look at what I day on day two…
Firstly on the train journey to the NEC I decided I would attempt to get around the Xbox One X and the games I wanted to take a look at on that platform (and I was mainly successful at this). But this was all set around my schedule again.
Assassin's Creed: Origins (Xbox One X)
I decided to jump straight into the Assassin's Creed: Origins queue for the Xbox One X, because this had quite a big queue throughout the day yesterday. I had personally have gone off the series since a the Ezio saga, and Black Flag gave me some hope series was returning to its best – then Unity happened. But, every game that releases I have found myself getting the game to try it out, and recently being disappointed. However, with Origins being at EGX I thought it would worth not only having a look at the game, but how it looks on the Xbox One X.
Firstly, I will look at the game side of it. To me it just felt like what you would expect from an Assassin's Creed title, however, they have tried to bring some little additions to the game, flying as the eagle was a standout point for me. I don't know if this was just down the mission I got to play or whether they have not made many changes to the gameplay. I'm hoping that it is down to the mission and we get more new features than was shown. This is because I had hopes that the year break from a new Assassin's Creed title was going to bring something new to the game.
The game did look really clean and sharp and the Xbox One X, and for the most part ran OK. You could see the slight improvement in picture quality with the 4K set-up – but then again you will have to have 4K TV at home to take advantage of it. I did notice there was quite a bit of pop-up details/textures when playing the game also, however, we were playing the Alpha Build – so I expect this will be different in the full game.
Meaning my overall experience with Assassin's Creed: Origins all felt a little samey, but with some nice little extras and  improved visuals brought to you by the Xbox One X.
Theatre VR (HTC Vive)
This was my first interview/meeting I had planned for today, with Jindrich from the team that have made the game. I know yesterdays post I went in-depth about the interview, but, I have now decided to not do this moving forward. Moving forward I will list my interviews have been so you know what is coming on my return from the convention.
The reason I have decided to do this, I will be adding these interviews with my feelings from the experience as complete separate posts on the site. So, expect these interviews to come out over next week.
Sonic Mania (Xbox One)
Like a couple of the parts of yesterday I do not want to go into the details of the game, because this game is already available on all platforms. So, it is likely you all know about what is and how the game to about.
But, I decided to have a go on Sonic Mania because I haven't purchased the game myself yet, although I have been hearing great things about it. To start with I was loving the old Sonic feel, it really took me back to my childhood of the SEGA Master System and I can see why this game is available. I had the option of playing it on the PS4 or the Xbox One, and personally I had no preference and just went with the first one that was free.
I got to play the Chemical Zone, well I few Acts of it before I gave it up for someone else to experience. Over all I would say I enjoyed the time I had with the game, the old school feel and enjoyment really sold it to me. Actually I think once I am back for my time with EGX I might have to grab the game – most likely on the Nintendo Switch.
Forza Motorsport 7 (Xbox One X)
As this was one of the main features of the Xbox One X E3 show, I decided I would give it a look. Again, I am not a huge fan of racing games – but I did play a good bit of Forza Motorsport 3 with people I knew on Xbox Live.
When I joined the queue it seemed like it would a be a bit of wait, but, I was informed if I wasn't wanting to play with the professional racing set-up it is a lot quicker. This all sounded to good to me, I'm bad enough at racing games as it is – I don't need a full set-up of seat and steering wheel to make me look any worse. This made the wait in the queue about 20 minutes rather than an hour, so it seems the choice was a good one.
Once I got sat down and play the game, I was actually quite surprised I didn't mind it. However, I don't know if its something I would play often on my own, and like Forza Motorsport 3 I would need others to get full use of the game – which I feel more than likely would be the situation. But, it refreshed my memory on why this game is popular with the racing game community, and it may end up in my collection at some point, if I have other to race against on my friends list.
The one thing that did blow me away was how beautiful this game looked on the Xbox One X. Everything about it was so well polished visually, it actually showed what the new console will be able to do (unlike the Alpha build of Assassin's Creed: Origins). The car looked so shiny (I play with view of full car), the texture packs were all clear and well detailed. There was no slow down in the gameplay, it was great to be experiencing this 4K resolution, the details and all running at 60fps – it really showed what Microsoft have been building.
After this I noticed a queue that seemed to always there yesterday was there again. So, I asked the woman at the Xbox booth what this queue was, basically it was pick a box and you could win a prize – courtesy of Xbox. The queue seemed to be moving quickly, so I jumped in – chance to win something for free why not?…
Anyway I won game, this was handed to me in a Xbox One X branded draw-string over the shoulder bag. Once I was out the way I checked and I had a copy of Halo Wars 2… really can't complain for a freebie.
HYPER SENTINEL
This was my second appointment of the day, where I spoke to Rob from Huey Games. But, at first he gave my chance to try out the Nintendo Switch build of the game – that was taken exclusively for the press to look at. He then took me through more details of the game, which will be coming to my YouTube channel and my blog later next week.
Now this is where my mainly succesful part comes into the my day with Xbox One X. From my meeting with Rob, I thought next on my list Shadow of War. I joined this queue at about 13:00, on getting to the line one of the booth staff came over and told me the wait is over 3 hours at the moment. That was me done in that queue, although I might try get there first thing tomorrow.
Cuphead (Xbox One)
This is an indie game that finally see's it release on 29 September, and a game that GDW from Crave Your Game never stops raving about. He told me it would be at EGX again this year, so I wanted to go and see it in action – because to be fair it did look good from all the videos.
I jumped into this knowing the game was made to be difficult – but WOW was I not prepared for the difficulty and frustration. If you are not aware of Cuphead it's a side scrolling shoot-em up in essence. My experience of these games are things like Death Smiles, but where these games normally make it more difficult by throwing countless and endless projectiles at you, Cuphead doesn't and is still difficult.
The difficulty in the game is not a bad thing though, it is going to make the game last you a long time. Also, as you get more experience with the game, i am sure the difficulty level will seem a lot less steep, or at least I hope so. The reason I think this is with my time with the game I did make progress and get a little further per each death.
After playing Cuphead for about 20 minutes with about 10 minutes frustration included I can see why GDW raves about the game. I will seriously be considering adding this to my game library on 29 September.
Call of Duty: WWII (PS4 Pro)
I am not sure why I decided to join the queue for Call of Duty: WWII after my time with Cuphead, I really haven't enjoyed the series since Black Ops 2. Maybe it was the pull of it going back to its roots with the setting, I don't know.
Anyway when getting into the game area, I found out it was a 6v6 domination setting over LAN. I was thinking it would be the campaign at least, but hey I'd waited in the queue – so I just went with the flow.
To be honest the game seemed a lot better back to its roots – missing all the wall running and boost jumping. But, gun-play wise it just felt like every other Call of Duty in my opinion – just will older versions of guns. The map you played did seem set-out really well to allow for tactics if you were playing with mates or even in clan games/tournaments. But, from my experience I really can not see this one being picked up by me – I'll stick the Destiny 2's Crucible.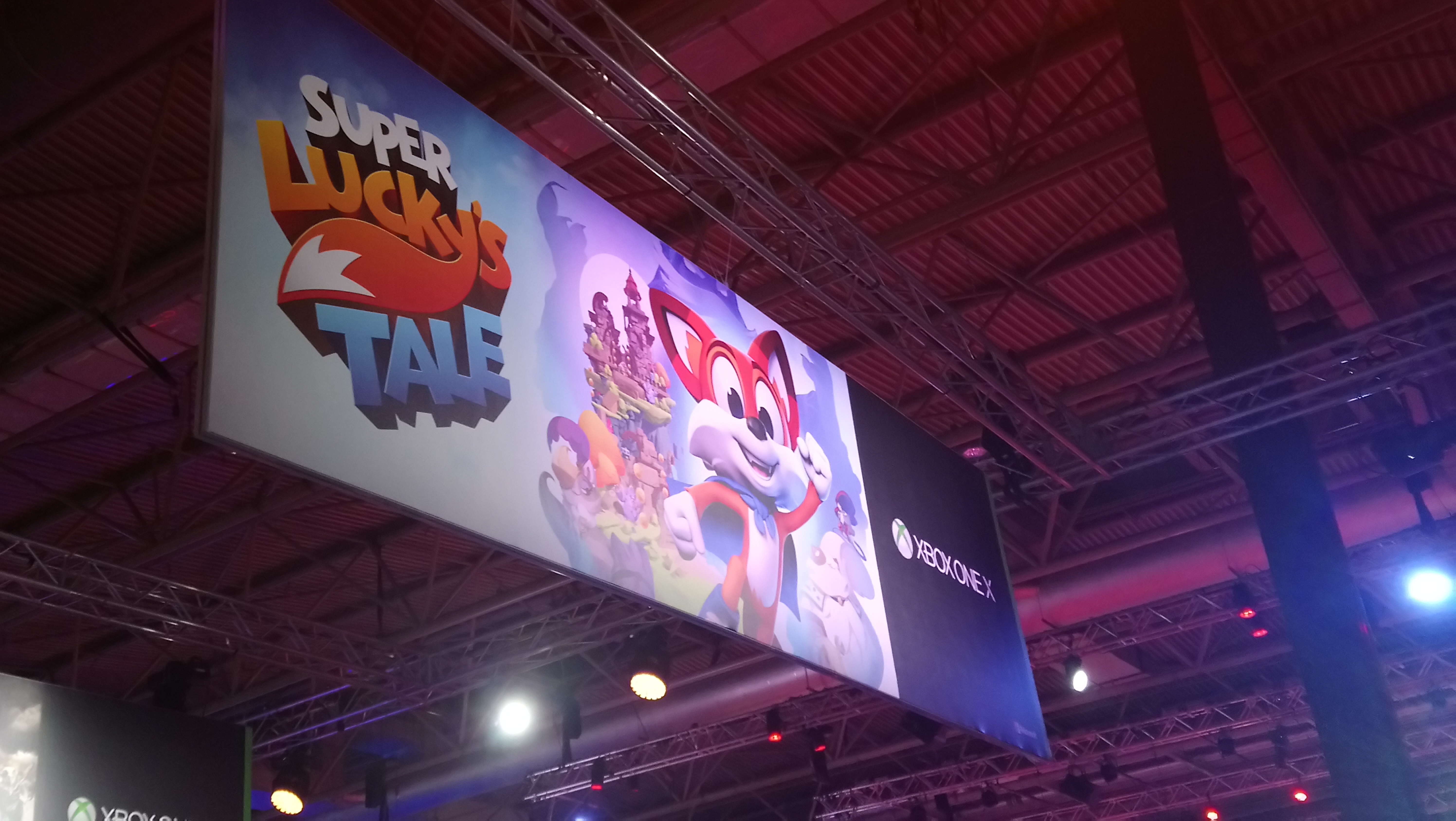 Super Lucky's Tale (Xbox One X)
Back to something I was eager to try on the Xbox One X – I know if seems like an odd game to want to try, but I have my reasons. When this was announced to coming the Xbox One X, I got excited thinking a new Conker from the tale scurrying around on the trailer. It was then confirmed to be Super Lucky's Tale, which I thought what the Oculus Rift game?
I have played some of Super Lucky's Tale on the Oculus before I was sick of it, and I could now see how the game was going to be any better on console, at least the VR side of it made it more than just your generic platform title. So, when the stand was there I had to have a go – plus the queue was only about 5 people deep.
Anyway I was pleasantly surprised with my experience of the game. They have made more in-depth that the what you played on the Oculus (thank god) – it sort of took me back to the older platformer games like Banjo and Kazooe, without trying to be that. You got to play a few little areas of the game and some sort of boss fight, but each part had a difference approach, but a similar goal – get the robot head's back to their bodies.
Visually this is one the most clear, crisp and colourful platformers I have played to date. Every colour use is so sharp and clear, I was truly shocked. I personally enjoyed Max The Curse of Brotherhood on the Xbox One, and I can see this one becoming my next guilty pleasure on the Xbox One X.
The Lost Bear
Not that long before E3 I posted my review of The Lost Bear (read it here), and at EGX I was given the opportunity to Interview Jack from Odd Bug Studio. So , this was my third appointment/interview sorted for today. Again this will be posted on my return from EGX and more information will be added as a post once it's ready.
Cosplay
From here I decided to move down and check out the Cosplay area, this has never really been my thing . But, while at a convention it would be rude not to check some of it out and I'd seem some pretty impressive stuff throughout the last two days. When I go to the area that was an event going on and people were coming out on the stage as their characters.
I seen everything covered while I was at the stage – from AAA games, Indie games, movies and TV shows/cartoons. This really was a new experience for me and it was interesting seeing how much effort people put into these costumes and becoming that character. But, from all the ones I seen I have to say the Jahed Leto's Joker was amazing. I was hoping to see him around the convention floor to try to get a photo, but unfortunately I didn't see him – hopefully he'll be there over the weekend again.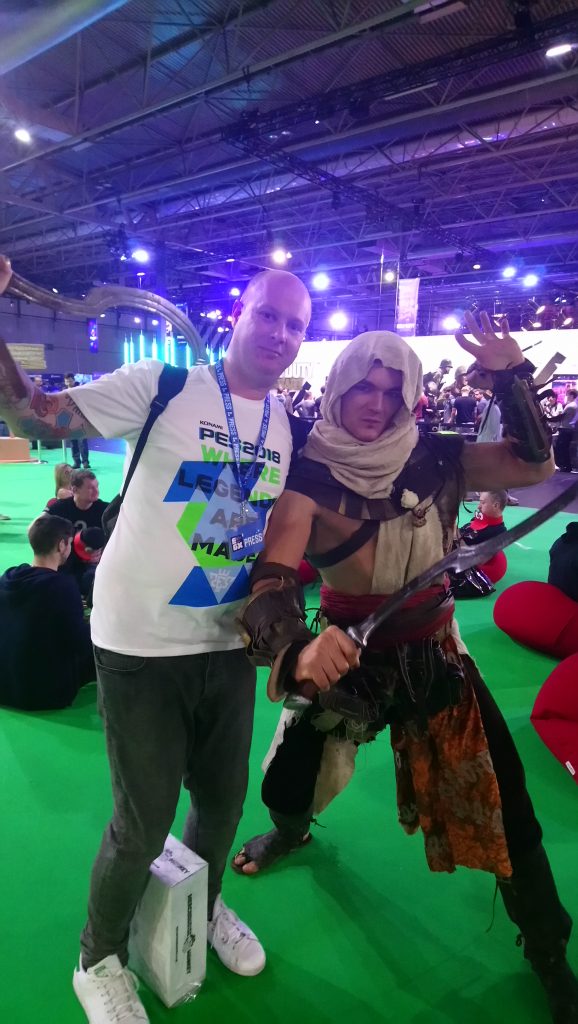 Monster Hunter World (PS4)
I have not played a Monster Hunter game in a long time, so I decided to go and try out the Monster Hunter World demo on the Playstation 4. With not playing one in so long I really wasn't sure what to expect or even if the game would still appeal to me.
I really did think the demo was going to be short, as the game really helped you in narrowing down where the monster you were hunting was. But, then this epic fight against he monster ensued. I really did enjoy the many aspects to the combat, morphing your weapon during battle to get the best use out of it. Chasing the monster as it retreated to its nest and taking on all the little monsters as well as the main one in the nest.
I really will consider adding this game to my collection from what I have played at EGX – but maybe not on release.
INOPS
My final port of call for the day was an Interview with Nizaam from ZRZ Studio, about their game INOPS. As with my other interviews this will be available with more information on the game on my return from EGX.
On a final note of my day, it was great to bump into Ben and Dan from Games Bulletin – and finally get to meet them in person.
That was day two at EGX 2017 for Tattastic Gamer. Again I will look forward to sharing the interviews once I am back from EGX, and giving more information on my experience with the games.