This week SUBPAC have announced a collaboration with Beat Games, to produce a limited exclusive SUBPAC wearable designed with the teams and virtual reality's most popular game Beat Saber.
What it SUBAC and how will it enhance the Beat Saber Experience;
SUBPAC has long been a leader in physical audio, and when worn by users in VR, it provides a new hi-fidelity tactile connection to Beat Saber. With this enhanced experience, Beat Saber players literally feel the bass and drums in the music, leading to faster reaction times and higher scores than ever before. Earlier this year, both companies introduced the SUBPAC to deaf and hard of hearing Beat Saber players, allowing them to feel the soundwaves in their bodies, and to compete side-by-side with players of all abilities.
By feeling the music, Beat Saber players have a more immersive experience and can leverage subtle and direct cues from the SUBPAC to make better decisions while playing. Being as fun as it is functional, the SUBPAC is a potent addition to Beat Saber's immersive gaming experience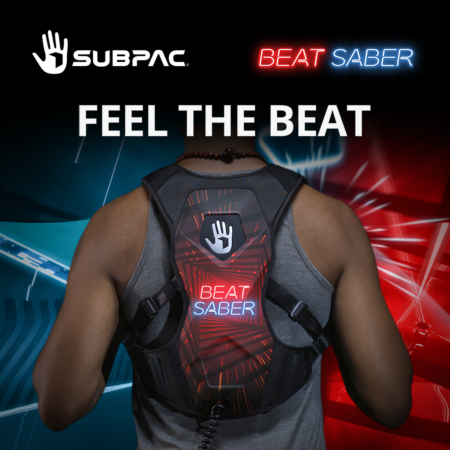 Jaroslav Beck, Head of Music of Beat Games, said;
"Our mission with Beat Saber is for people to physically experience music in the most powerful way possible across any age and ability. I use SUBPAC in the studio, I know it's the right technology to elevate this mission."
John Alexiou, co-founder of SUBPAC, added;
"It's our goal to create a new standard in immersion – deep physical immersion. Jaroslav and the Beat Saber team have created an incredible music-driven VR experience that we are proud to collaborate with. We take it to the next level."
Both Beat Games and SUBPAC have hinted that this is only the beginning of their collaborations together. So, stay tuned!