With the release of the Oculus Quest 2, some studios have confirmed their game will be getting enhancements on the more powerful standalone device. So below, you will find all the games with confirmed enhancements and the details.
Affected: The Manor
Game synopsis: An experience unlike any other, AFFECTED: The Manor features a unique VR haunted house for you to journey through, pushing your bravery to its limits. Multiple pathways and obstacles provide a replayable challenge as you face the horrors that lie within.
Improvements: Improved visuals and audio, new dynamic shadows
Apex Construct
Game synopsis: Travel to the shattered future of Apex Construct, where merciless robots prowl the world as a result of mankind's reckless experiments. As these synthetic creatures seek to dominate their new hunting grounds, you must use both your wits and combat skills to survive. In this atmospheric first-person action adventure game, built exclusively for VR, the fate of mankind rests on you – the last human alive.
Improvements Higher resolution, Added particle effects, Audio effects, Ragdoll physics for enemies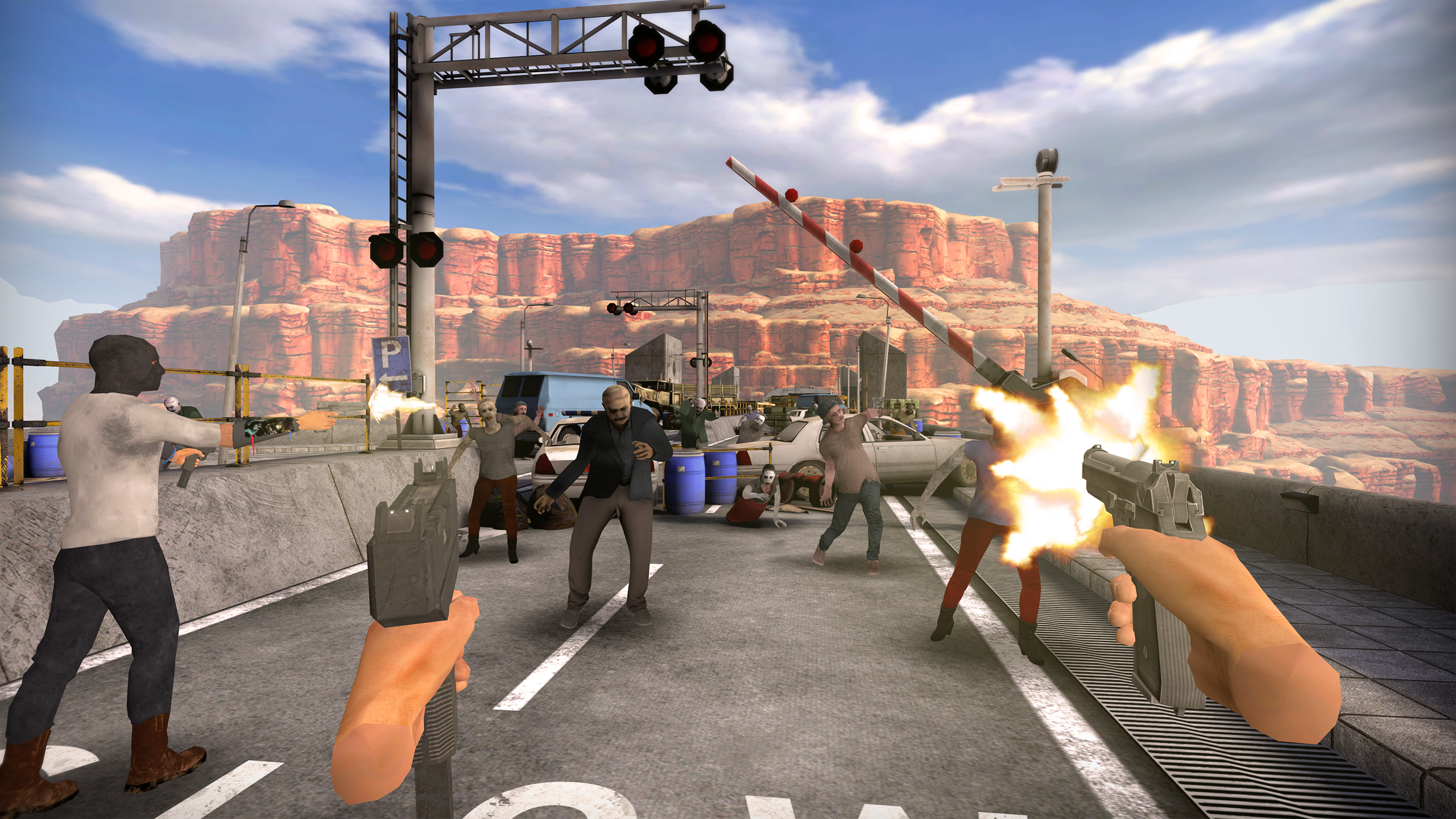 Arizona Sunshine
Game synopsis: When you hear a flash of a human voice on the radio, your hopes and beliefs are confirmed – there are still survivors out in the blistering heat of the post apocalyptic Grand Canyon state! Arizona Sunshine poses a two-fold battle for survival in a VR zombie apocalypse in which players need to navigate both the hordes of zombies coming for their brains and the scorching heat in their desperate search for human contact.
Improvements: Updated visuals, New assets and improved zombie models, Improved physics
Death Horizon: Reloaded
Game synopsis: The Horizon scientific research center is a deceptively quiet place. When you came round, there were hundreds of the living dead all around you. All because of that damn T12 virus. You'll need to complete all the laboratory levels and take down crowds of zombie-monsters. You have the best of American weaponry at your disposal. Choose for yourself how to fight the horde best – with a Deagle or a Shotgun?
Improvements: Dynamic lighting and muzzle flash, Improved enemies, Improved environments
Gravity Lab
Game synopsis: Gravity Lab would like to introduce our new range of gravity modifying appliances. No matter how fast or how heavy your objects are, we can move them! Save money and time by replacing your entire human workforce with automated appliances from Gravity Lab. Currently awaiting regulatory approval, we invite you to visit our testing facility and give them a go. We have prepared a selection of test scenarios for you and we are certain you can solve them. Also, feel free to create your own test scenario and share them with fellow participants!
Improvements: Improved textures on tools
Holopoint
Game synopsis: Holopoint is pure archery madness. Fight your way through waves of responsive targets, samurai, and highly dangerous ninjas – all while drawing, nocking, and shooting your arrows as quickly as possible. Holopoint is a skill based game where progression is based on player skill and training rather than unlocks. Like many arcade style games, personal progress and a high score is the goal. This game quickly becomes difficult and requires an active mindset. Holopoint is designed so that only a few determined archers will reach the last wave.
Improvements: Update confirmed, no details currently available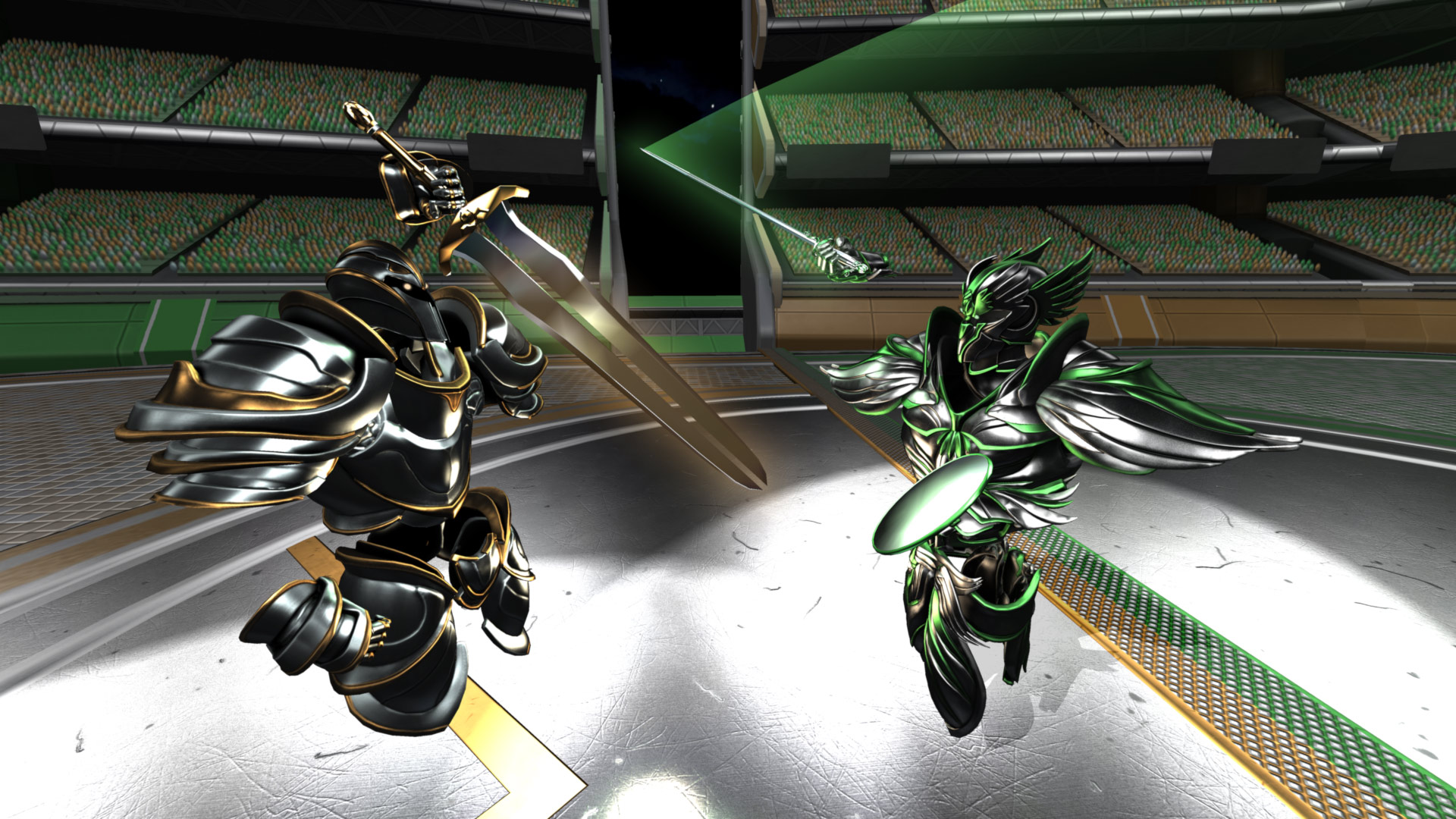 Ironlights
Game synopsis:  Ironlights is a weapon-based VR duelling game, featuring skilful, fluid swordplay in VR. The combat is carefully designed to create a dynamic back-and-forth battle. You can't just hack and slash your way to victory; instead, you'll need to think one step ahead of your opponent, parrying their attacks and cleverly slipping past their defences.
Improvements: Improved resolution improving image sharpness, Improved shaders. Improved particle effects on enemy deaths
Onward
Game synopsis: Become fully immersed in the firefight! Experience a first person shooter as you never have before: Onward combines mil-sim gameplay with the experience of playing in virtual reality. Players cannot rely on crosshairs or mini maps, instead you rely on coordination and communication with your squad, in order to succeed at your objective. Realistic combat mechanics and artificial locomotion will push your combat survival skills to their limit as you engage in infantry combat across a large variety of maps and combat situations.
Improvements: Improved level of detail bias for reduced pop-in, Specular Maps for improved gun models
Phantom: Covert Ops
Game synopsis: You are a Phantom: an elite and deadly covert operative with a single night to prevent all-out war. Dispatched into remote, hostile wetlands in your tactical kayak, utilise military-grade weapons and equipment to evade and neutralise the enemy threat. Immerse yourself in a gritty and authentic arena of war across an intense campaign. Engage your targets lethally or infiltrate unnoticed from within the shadows: it's your mission to execute your own way.
Improvements: A lighting pass to improve visuals
Real VR Fishing
Game synopsis: Real VR Fishing lets you feel the taste of fishing and relax in real-world fishing spots. The game provides different difficulties for both anglers and non-anglers. Enjoy collecting and watching your freshwater and saltwater fishes in your aquariums which you can customize with unique decorations. Relax surrounded by stunning and realistic scenery while listening to your favorite tunes in the background.
Improvements: Texture resolution for the fish has been doubled, Increased overall game resolution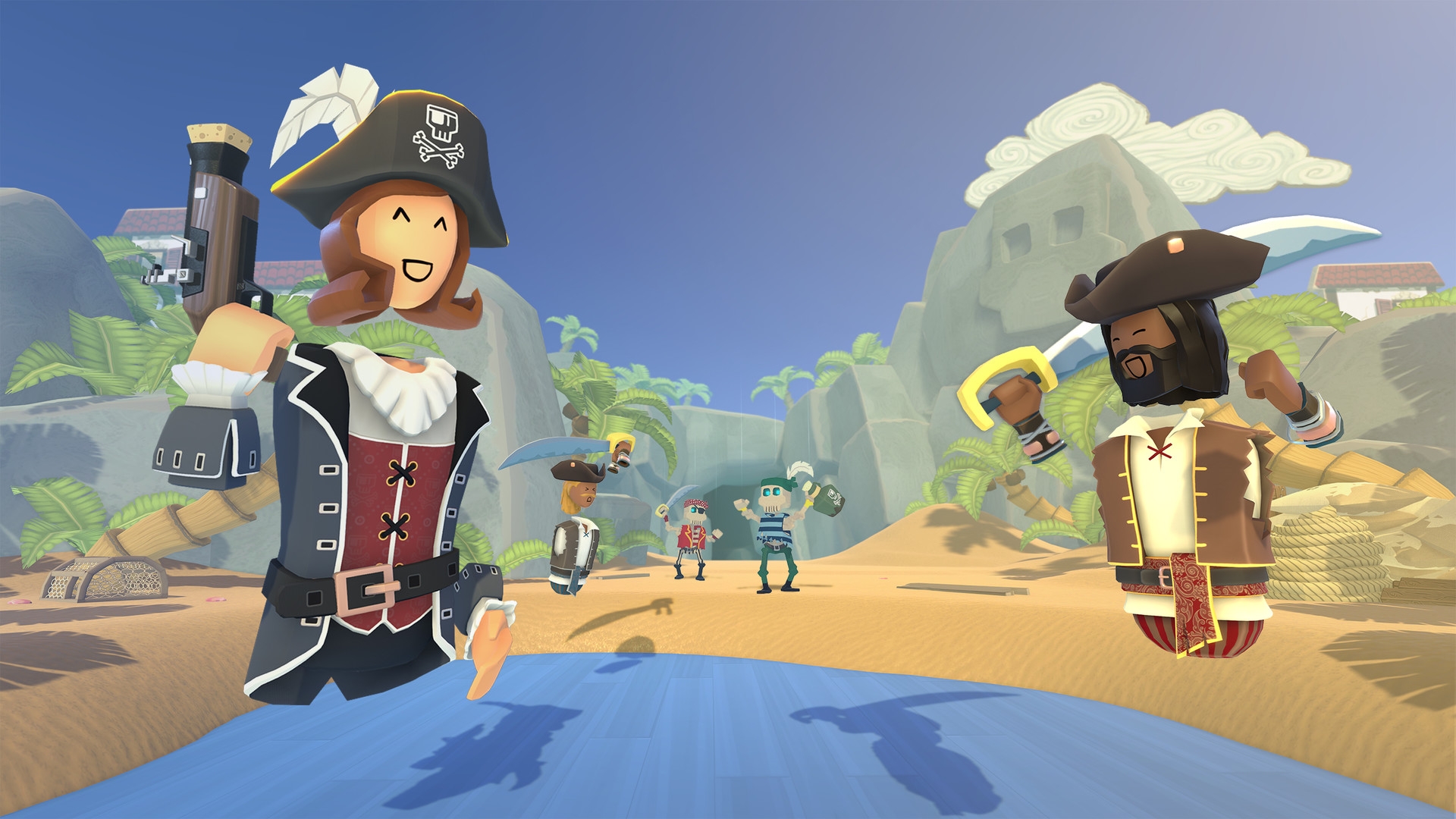 Rec Room
Game synopsis: The virtual reality social club where you play active games with friends from all around the world. Customize your appearance, then party up to play multiplayer games like Paintball, 3D Charades, Disc Golf, and even four player co-op adventures! Or just hang out in The Lounge
Improvements: New modes from the PC VR version coming to Quest 2
Red Matter
Game synopsis: Red Matter is a story-driven VR puzzle adventure game set during a dystopian sci-fi Cold War. Take on the role of Agent Epsilon, an astronaut of the Atlantic Union dispatched to an abandoned Volgravian moon base on a frozen, faraway planet. Your mission: to investigate a shady top secret research project.
Improvements: Better textures, Further level of detail distance
Superhot VR
Game synopsis: SUPERHOT VR is the first-person shooter in which time moves only when you move. With its mesmerizing gameplay and unique, stylized graphics SUPERHOT VR aims to finally add something new and disruptive to the FPS genre. See the bullets crawling towards you as you carefully plan your steps and aim your gun. Enjoy the mayhem that is unleashed as you put that plan into motion. Dodge bullets. Take out your enemies. One step at a time.
Improvements: Higher resolution, More detailed textures, Support for 90Hz (when available).
Trover Saves The Universe
Game synopsis: Your dogs have been dognapped by a beaked lunatic who stuffed them into his eye holes and is using their life essence to destroy the Universe. Does that make sense? You've partnered with Trover, a little purple eye hole monster to save them. Find power babies and plug them into his eye holes so that he can absorb their power, track down Glorkon, and save your dogs (and the Universe).
Improvements: New crisp visual, Increased resolution, Improved framerate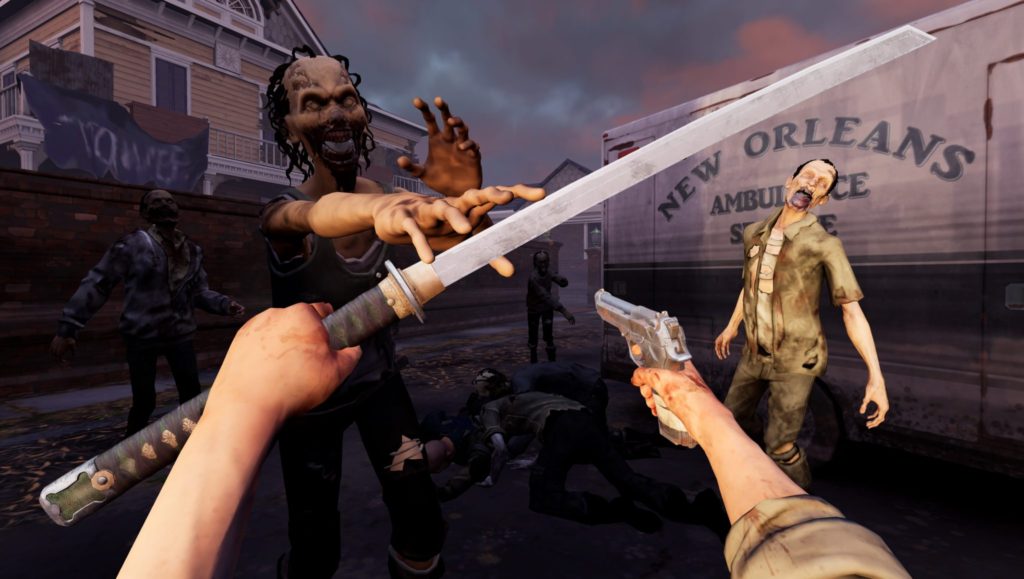 The Walking Dead: Saints & Sinners
Game synopsis: Saints & Sinners is a game unlike any other in The Walking Dead universe. Every challenge you face and decision you make is driven by you. Fight the undead, scavenge through the flooded ruins of New Orleans, and face gut-wrenching choices for you and the other survivors. Live The Walking Dead's dark drama in your own skin. Crafting, exploration, freedom of choice and visceral combat make this a deep game built for VR.
Improvements: Improved resolution, Faster load times, Changes in level scenery including vegetation and object placement, Enhanced spatial audio, More wound effects
Waltz Of The Wizard: Extended Edition
Game synopsis: Waltz of the Wizard is a virtual reality experience that lets you feel what it's like to have magical powers. Combine arcane ingredients into a boiling cauldron with the help of an ancient spirit trapped in a human skull. Unleash creative or destructive wizardry upon a fully interactive virtual world. Travel to new places, finding yourself in mysterious circumstances full of detail and unforgettable atmosphere.
Improvements: Improved resolution, Real-time lighting and bloom, More particle effects, More objects and decals in the environment