As many people already know Pimax was working on their next-generation VR headsets, and they began taking pre-orders for these a couple of months ago, for these Vision Series headsets. Well the team at Pimax headed into CES releasing a few announcements, which included the mass production of the Pimax VISION 8K X and two other new head mounted displays.
What we ALREADY knEw about the VISION 8K X
The Pimax VISION 8K X offers the highest level of image quality available on the in the consumer market today, due to its dual native 4K resolution, the first to offer this. It will also use the latest panel technology with an advanced full RGB pixel matrix and high panel utilization. Which will offer a higher pixel density with up to 50% more sub pixel information, which will cause the Screen Door Effect to become virtually invisible.
This will offer Pimax's signature field of view, that reaches 200 degrees (diagonally), 170 degrees (horizontally) and 115 degrees (vertically) – which allow the headset to approach the reach of the human eye for great immersion.
The headset body will weigh 500g (without the modular audio strap). The headset will come with the higher forehead face gasket from their comfort kit and with the modular audio strap, to make the wight evenly balanced on the front and back of the users head.
The VISION 8K X features Pimax's new 'Dual Engine Mode'. Which allows for the smoothest operation on a wider variety of computer hardware. Native mode is 3840*2160 per eye at 75Hz (input signal), 3840*2160 per eye with 75Hz (output signal), but users can switch freely between this and upscale mode which features 2560*1440 per eye at 120Hz (max input signal) and 3840*2160 per eye at 120Hz (max output signal), whenever necessary.
The team have also informed the VISION 8K series are built with a new ruggedized housing material that allows for use in some of the most demanding environments, and as with the other HMD's already on the market they will support both Steam 1.0 and 2.0 lighthouses.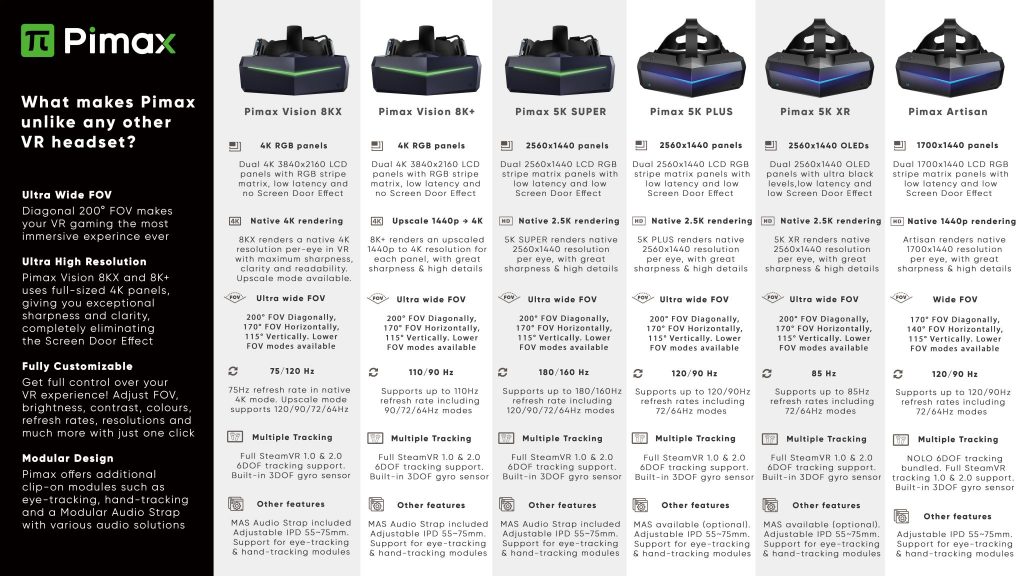 New Announcements Ahead of CES 2020
Pimax is known for pushing the boundaries for the field of view and visual fidelity with their HMD's, but the have been working on increasing the refresh rate with its headset line. This is something users of the VR community is widely requesting to provide a smoother VR experience.
Well the team have stepped up their efforts for this an announced a new headset model in the 5K series… the VISION 5K SUPER.
This new model will feature a killer refresh rate option allowing for 90/120/160 and 180Hz with a field of view from 200/180/150 degrees diagonally. It will come with the resolution of 2560*1440 per eye with the a full RGB matrix.
With its ultra-low latency, (in 180Hz mode, the MTP is less than 9ms), the VISION 5K SUPER offers insanely fast response times, and will be great for games such as first person shooters.
At CES 2020, the team are also unveiling the ARTISAN, which is the companies entry-level VR headset. This will offer refresh rates at 72/90/120Hz, a field of view at 170 degress diagonally, and comes with 1700*1440 per eye rendering displays. Aertisans entry-level graphics card requirement is only the GTX1050Ti, which is great for a wide range of VR players current or new. Again, this will support the Steam VR 1.0 and 2.0 lighthouses, offering 6DOF tracking and room-scale VR. They have also announced that the pricing of the Artisan will start from $449.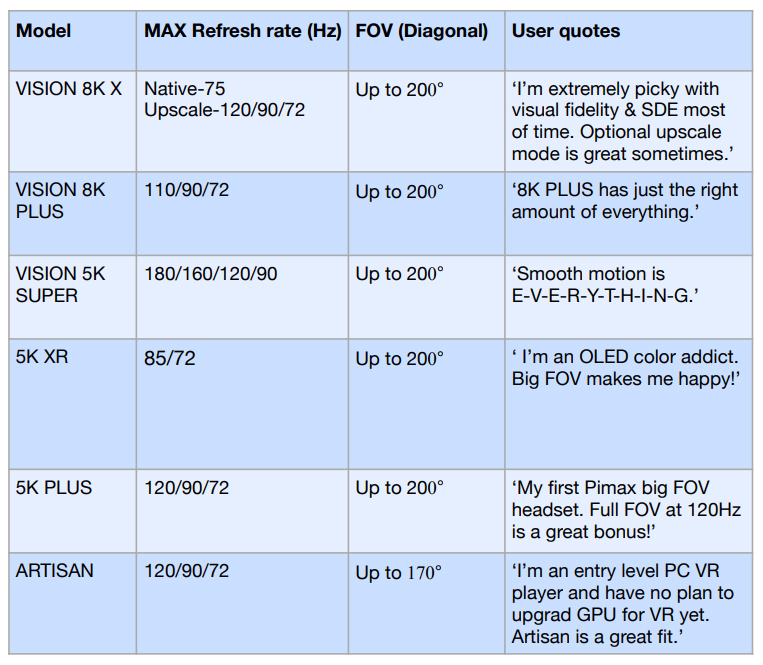 Whats more the Vision Series also features a fully modular design to extend its functionality. Pimax is displaying a number of easily installable modules for the Vision series which include the new Modular Audio Strap (MAS), hand motion tracking, eye tracking with Dynamic Foveated Rendering (DFR) at CES and later in the year a wireless transmission module will also be demonstrated.
Brainwarp 2.0
The next announcement was the team are releasing Brainwarp 2.0. This is a set of innovative technologies applied in VR headsets to lower the hardware requirements, reduce latency and boost refresh rates for a much smoother VR experience. With the main feature of Brainwarp 2.0 allowing Pimax's headsets line to have the refresh rate maximised, surpassing the industry standard and allow to the reach on an average 120Hz.
The New Era in Virtual Reality?
With its new series of headsets and pushing further boundaries in the medium, the team at Pimax asked themselves What does the new Era in VR look like?… and they feel;
VR enthusiasts deserve a better and smoother visual quality without Screen Door Effect and much greater visual detail to allow a true vision of the virtual world. The latest virtual world interactions include the ability to click on a virtual button with a fingertip; Walking freely with high-resolution and wide FOV in big room without wires, interactive menus using only your eyes. All this in ONE VR Headset – that is our Vision for VR and that is why the new Vision 8K X headset opens up a new era in virtual reality.
On these announcements founder of Pimax Robin Weng said;
"We are blessed with a hardcore and supportive VR community, together with whom we learn lessons and push the industry to the next VR Era. It's a story of challenge to tell developing VISION 8K X, but eventually we made it! We are very proud of VISION 8K X and believe it is a standard next generation headset, and are extremely excited for the refresh rate improvement for the entire P2 headset line and Brainwarp 2.0. Yet, headset alone will not be enough to achieve the ultimate immersion for the new VR Era, and we are looking forward to more excellent content created on this platform and are calling for more industry personnel and VR enthusiasts to make this journey together. Only together can we achieve great things."
Pimax are currently at CES 2020, so if you are there, please make sure to stop by speak to the team and check out the hardware.
With these announcements, Pimax will have quite a wide range of HMD's available to cover every users needs. As more news is released from Pimax, we will have you covered.
Also, we recently reviewed the Pimax 5K XR, if you interested in our thoughts you can read it here