ProTubeVR are a company that have brought the most realistic gunstock to the PCVR platforms. Here at The VR Realm we are a big fan of the gunstock and the extra benefits and immersion the product brings with it (read our review here). The company is now looking to fund a new module you can add to your ProTubeVR that brings extra immersion, with the ForceTubeVR.
The ForceTubrVR is an additional module for the ProTubeVR that brings vibration and a kicker to the shoulder mount. To give that true feeling of shooting each gun, with vibration and recoil effects included. Let's take a look at more details provided by ProTubeVR, about this product.
Features;
Kick and Rumble (about 100w peak power per shot)
Bluetooth connection
Plug-in available for Unity and UE4 right now for direct in-game support For all platforms using windows as OS (regardless of HMD used)
Provide also a little program to 'translate' actual rumble signals to ForcetubeVR signals (Only on OpenVR/SteamVR platform for now), like this you can play ALL your existing games even if the game don't officially support the ForceTube
Auto connect so you can light it on and off on the fly without having to touch anything apart the Forcetube power button
As mentioned the company are looking to try to fund the ForceTubeVR. In order to do this they are running a Kickstarter campaign.
Crowdfunding;
Will allow to choose between "DevKit" and Final product "pre-orders"
Devkits are representative on Main "key" features
DevKits will start manufacturing/deliver just after the campaign
As mentioned previously this is an additional module, so of course this can be added to all current versions of the ProTubeVR
Another great thing about the team at ProTubeVR are not on this venture alone. The ForceTubeVR is natively supported by some of the biggest shooter currently available on VR platform.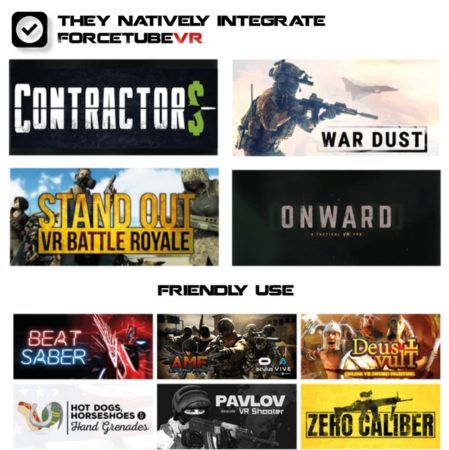 The Kickstarter is now open, do you want to back this product? Then Click Here to go their Kickstarter.