In what we see as a very smart move by Valve, moments before the F8 kicked off they dropped an information overload about their upcoming VR headset. Early last month it was leaked that the pre-orders would open the 1st May and the product would ship sometime in June – this has now been confirmed, But, what we did not know was the Specs of this Head Mounted Display (HMD) or what it was going to cost, but all is now clear with pre-orders opened today.
From this information released, it is clear the HMD is going to a beast and is the closest you will get to VR 2.0.
The Headset
Visuals
The team at Valve are bring High Fidelity Visuals with their HMD using a number of techniques to make sure the image stays clear. It is going to have dual 1440×1600 RGB LCD's which will provide 50% more sub-pixels than your OLED. Allowing for greater sharpness to the image with the same rendering cost. Another benefit of the LCD panels is it has a greater fill-factor, meaning you will see a reduced screen door effect, compared to OLED panels. To add to this it also brings with it a reduced illumination period of 0.330ms to 0.530ms (frame rate dependant), which allows this imagery stay just as sharp when moving your head as it is standing still.
As well as this improvement in sharpness of the visuals, you will also be getting higher frame rates. With the Index allowing a frame rate of 120Hz with the option of back-wards compatibility to 90Hz. In addition to these two frame rates you will get an experimental 144Hz mode. This is great to see, as these higher frame rates offers improved realism and optical comfort, that will make longer and more comfortable sessions possible.
As you would expect in HMD's you have the option to set your IPD, to make for most comfortable experience, but, Valve had taken some steps to make sure users will get an improved Field of View (FOV). This is done using custom lenses, which will allow users to look around the scenes with their eyes and not just by moving your head, with minimal distortion. Then than have used canted optics, meaning the headsets displays cant outwards by 5 degrees. Which will improve the outer FOV with the inner also being balanced. Using these has resulted in a 20 degree FOV improvement on HTC Vive.
Audio
An interesting move by Valve has seen them make the Index speakers not make contact with your ears. However, this has been designed this way to make for a natural experience for your audio. and from previews around the internet it seems this works well. Without the psychical contact it means that he audio is allowed to flow freely and interact with the shape of your head, rather than being pumped straight into your ears. This is also an improvement in the comfort of the speakers not causing heat on your ears, giving you longer sessions again. Each of the speakers will be adjustable as well, meaning each user can get them in the sweet spot for the best audio.
Comfort
As well as the improvement in visuals and audio making for more comfortable and longer play sessions, the team have also taken into account the headset itself. The Valve Index can be adjusted for any head size, face angle and ear position, and the users required IPD. The HMD also used Antimicrobial fabrics meaning it is soft on the skin and easy to clean, with the headset's ergonomically designed padding making the pressure of wearing the headset is evenly distributed for that final comfort.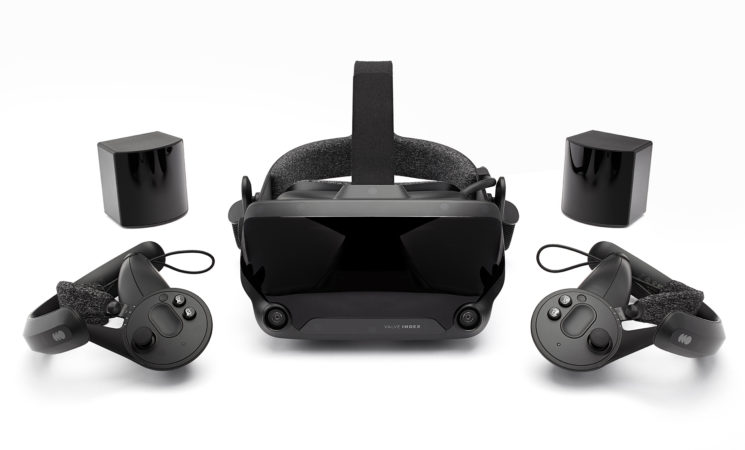 Knuckle Controllers
Since the Knuckle Controllers were announced and shown off, we have felt these are the next level immersion and step-forward for VR. Then when the Boneworks demo came out, we knew this is the controller method that VR needs.
The controllers will let people reach out and objects directly, rather than depending on triggers. Each of the controllers will use 87 sensors to track your hand and finger position, the motion and the pressure. The team wanted to bring the most natural and accurate open-handed throwing as a priority and made sure to use every sensor at their disposal. This means to optical and motion sensors provide velocity and trajectory, while the capacitive and force sensors help determine the intended point of release. Using the software and fine-tuned algorithms brings this all together.
Valve have also taken into the account the older titles that will not have direct support of the Knuckles, so they have made the controllers have all the features needed. Meaning you will still get triggers, buttons and analogue sticks. However they are working with a number of devs to get updates brought to their games for full Knuckle support, a list of some of these titles can be found on the Index website.
Base Stations
The Valve Index's full bundle with ship with the SteamVR Base Stations 2.0, which have improvements over the 1.0 versions shipped with the HTC Vive. However, the 1.0 versions will still be compatible with the Valve Index.
The improvements the 2.0 version brings are an increased range and FOV, which will allow for a play space which is 400% larger, compare to the previous generations. You can also add another one or two base stations to your set-up if required. For example to cover a tricky spot in your play space or increase it to the maximum of 10×10 meters.
Pricing
As you can tell from the above information this is an impressive piece of technology and one that has us hyped, as for us this is the next big step in VR. However, as you would expect with such specs this is going to be a high-end but pricey piece of kit.
The Valve Index is getting released in three separate pricing tiers, it all depends on your needs as the buyer. There are;
Valve Index VR Kit: Includes Headset, Controllers and Two Base Stations – Priced at £919.00 (GBP)
Valve Index + Controllers: Includes Headset and Controllers – Priced at £689.00 (GBP)
Valve Index Headset: Includes Headset (For those who already own a Vive Pro or Vive) – Priced at £459.00 (GPB)
The Knuckle Controllers and Base Stations will also be available separately. These are priced at;
Knuckle Controllers: £259.00 (GBP)
1x Base Station 2.0: £139.00 (GBP) – Please note at the moment these only support the Index and Vive Pro,
From all the VR announcements and HMD's being release, here at The VR Realm we are most excited about this release, as we feel this is next big set-up in what VR is offering.