Over my time in Virtual Reality the main brand of headset I have used as my daily driver is HTC VIVE. With my venture into PC VR beginning on the original VIVE, then moving onto the Pro before settling on the Pro Eye. So, when I was offered a loan model of HTC Vive Pro 2 to test and review it was an opportunity I was happy to take. Now I have had a few months with the HMD, what are my thoughts?
If you are buying the Vive Pro 2 as your first PC VR headset, the set-up process might seem like it is a drawn out process but, once it is setup there is no need to go through it again. This is due to them using lighthouses for their tracking – which comes with the benefit of pin-point tracking in Virtual Reality. You will be required to set these up in either corner of your playspace, so they can see each other. You can set these up on either on provided wall brackets, however, I use photography lighting tripods (which you will need to buy separately). Firstly you will need to download the VIVE software from HTC's website, this will take you through installing VIVE console and the steps of setting up the breakout box and getting all ready to go. The breakout box is really simple to connect up with the rear of the box having sockets for power, mini-display and USB. The mini-display cable is a mini to full size display port cable which goes into your graphics card, the USB-3 to USB-3 cable going from the box to your PC, and then finally the power cable to your power outlet. You then have the cable from the HMD that goes into the front of the breakout box and then you turn the power on to the box. You then the option to use either Steam VR or VIVEPORT to play VR games. Steam VR will be installed as part of the above setup process. Personally I would install both, especially if this is your first foray into PC VR, as they will include 2-months free of their VIVEPORT Infinity service – which is like a Netflix for VR games and a great place to get a taste of what PC VR is all about. Once everything is installed you are now ready to go, and in the future you will have a plug-and-play service (if like me you keep your breakout box connected to the PC at all times).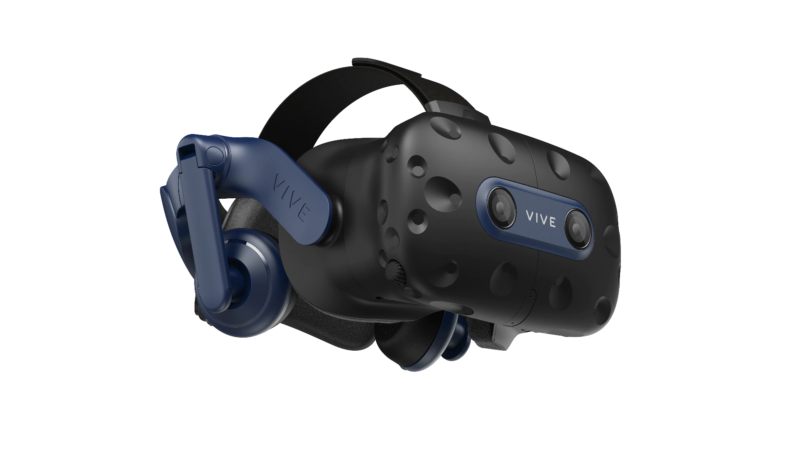 Head Mounted Display (HMD)
What I have found using mainly Vive Products over my time in VR (while also having experience with many other HMD's available) is HTC set the bar for build quality. They have continued this with the Vive Pro 2, bringing the same casing and quality used for the previous Pro series range. You will find that the HMD, Wand Controllers 2.0 and the breakout box are all made of high quality plastic. Over my time with all the previous versions of their headsets I have hit them while playing games and never worried about or caused any damage to the equipment. One thing you might think with the quality being so high is, will this not cause the HMD to weighty and uncomfortable to use? This is another area I find HTC products have excelled in the market, and with the continued use of the same casing design it means they carry over the comfort perfectly as well. With the headstrap design and the adjustable parts of the strap its easy to get the weight balanced perfectly, allowing for longer sessions without discomfort.
A big difference between the VIVE Pro 2 and their previous releases is they have switched from OLED to low persistence LCD displays. Which is one area of the VIVE Pro 2 that let me down, as one of the main reasons I have stuck with HTC products over the years. Despite the flaws with using OLED, I just love the black levels that are not offered on LCD displays (but that is something personal to me). I was not surprised to see the team took the decision to move LCD, as this is standard in Virtual Reality now. Although it loses some benefits offered by OLED, they bring many benefits with them, with the main ones being less screen-door effect, higher pixel density and refresh rates. A massive change they have made is giving the resolution of the HMD a huge boost – moving from 1440 x 1600 per eye (2880 x 1600 total) to 2448 x 2448 per eye (4896 x 2448 total) and the LCD displays now offering a 120hz mode. In order to run the HMD on full resolution at either 90 or 120hz you will need a powerful PC behind it with the minim requirements being an i5-4590, 8GB RAM and an RTX 2060 (or AMD equivalent). However, if you don't have these within the VIVE console it will give you other lesser options at both 90 and 120hz that your PC handle.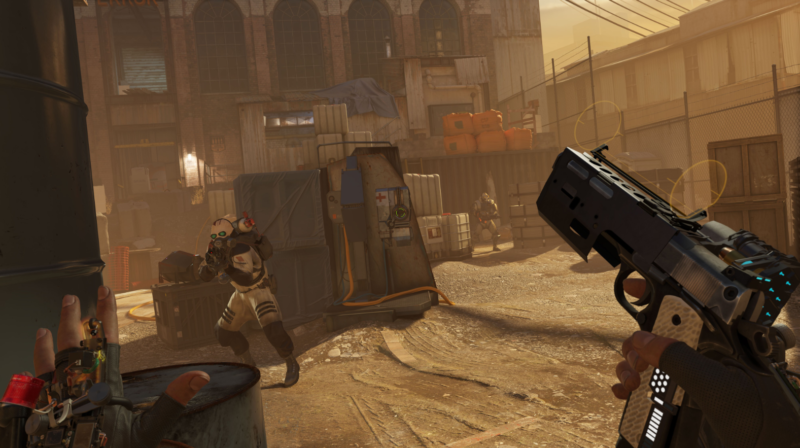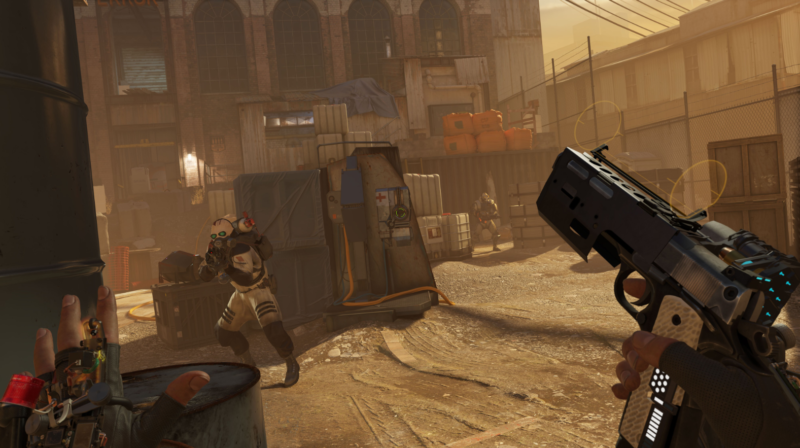 Through the testing I went in on the full resolution at 120hz, but found in most cases outside of rhythm games I moved it to 90hz mode (as this refresh rate will do the job and saves on some processor power). As soon as I went into some of my favourites Half-Life: Alyx, Paper Beasts, NEOS VR and experiences like Ayahuasca Kosmik Journey and Gloomy Eyes, the resolution boost really blew my mind. Another improvement they have brought to the HMD is as increased field of view (FOV) offering up to a 120 degree Horizontal FOV – but this will depend on your face shape and the facial pad you use. As getting those lenses as close to your face as possible is going to give you the best FOV. Now a couple issues that were easily visible that weren't that prevalent in the Pro Eye; the first being the glare around the edges on the lenses – which seems to be down to the lens design. This becomes a problem when you have high contrasting colours like white on black, and when trying to read set text in some games. Secondly it seems the lenses offer a very small sweet spot, meaning around the edges get blurry, so unless you are moving your head there will be that blur around the edges. Again this will bring issues when trying to read text in games, as you cannot just move your eyes and need to move your full head when reading. As with every other VIVE headset they have included a manual IPD adjuster on the side of the HMD, with the Pro 2 offering an IPD range of 57mm-70mm. These means most users should be able to get it perfect for them and offer that much important eye relief to make the experience of VR as comfortable as possible.
For the audio they provide Hi-Res certified headphones, which offer 3D Spacial Audio, which seem to be very similar to ones used on the previous Pro models. These offer audio that is is acceptable for a good VR experience, but they are not the best on offer in the VR space – with the Index audio solution still reigning supreme in this area. However, these headphones are easily detachable and this will allow you to use your own headphones if you have a pair you prefer. A massive issue that HTC products have faced in the past is the microphone provided in the HMD is not up to scratch with any other in the VR space. Unfortunately this has not changed with the VIVE Pro 2, and you still get a lower level of volume and the popping when talking. I have seen this improved by people attaching the fur you see around boom mics over the duel microphone inputs – but personally I use another solution in the ModMic Wireless.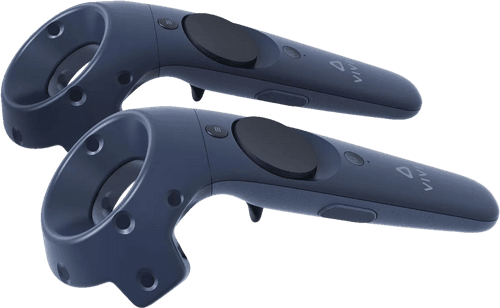 The VIVE Pro 2 comes with VIVE Wands 2.0 controllers and when these first were released as 1.0 they were great and innovative for the medium. However, over the time they have not made any changes in the controllers and they have fallen behind what is available on the market with other VR companies. They do still work and offer an OK control system for VR, but the lack of things like analogues and input buttons make them feel behind the times. With movement bring controlled by an elevated touch pad and the input being managed by pressing down on sections of the touch pad. With them using the Lighthouses the controllers tracking is perfect. With this in mind as HTC use Steam VR Lighthouse tracking, it does mean it is possible to pair them with other controllers. Over my time using the VIVE Pro, VIVE Pro Eye and for most of the testing for this review I have used Index Controllers, for the reasons outlined above
HTC do offer a number of accessories that are additional purchases on top of the HMD, but I have tested the accessories I own to see what if any improvements you might get using them with the VIVE Pro 2. Firstly, I decided to run it with accessories I use most often with my Pro Eye, these are the Facial and body trackers (2.0). With these I did not see any benefits or improvements over using them with the VIVE Pro Eye, but I didn't expect to see any as they are all controlled by either their own dongles or software. However, I did test it with my VIVE Wireless Adapter, that will bring a wireless experience to PC VR for VIVE HMD's. Using the wireless adapter does bring a downgrade to what is possible with Vive Pro 2 with it only supporting a resolution of 3264 x 1632 on 90hz, but this still gives such a clear picture clarity wise, although downgraded from what is possible wired. Also this is still an improvement on what is available on the previous Pro series models and gives you that wireless freedom many people currently want in VR.
For the purposes of transparency, this review was created using a review product provided by the company or their respective PR company. The use of a review product does not affect my judgement of the product.


Over my time testing the VIVE Pro 2, I have found that where it brings some improvements over previous VIVE hardware and others on the market as well, it also brings some downsides. Where the visual clarity of the headset is a massive improvement to the Pro series, the new lens design does detract from it a little. What I am happy to see is the team have kept the build and comfort quality that sees them top of the class, but again shipping with same microphone quality and the Wands takes a little away from the overall package. Where these things are fixable with additional purchases for the cost of the full system its an extra outlay you do not need – purchasing the HMD, base stations and Index Controllers separately might be the better option and would not cost much more. I think the Pro 2 offers some great features and it depends what you are looking for in your HMD on whether purchasing it is the best option.
But, is it worth upgrading if you have a second generation of VR HMD already? Unfortunately I would say hold off unless you are desperate for a better resolution for your VR experience.