One thing that users of VR are always aching for that wireless solution for all head mounted displays. Where you have this with the Quest, and on the Vive and Oculus with the likes of the HTC Vive Wireless Adapter and TPCast – these can come in expensive. Another option is the ceiling mounted Pully systems, which are a lot more cost-effective for most users. We have now had chance to use the KIWI Design V2 Silent Cables – so, what did with think of them?
Whats in the box?
Inside the box you get 8 adhesive hooks, 7 screw hooks with anchors, 6 silent VR Cables, 1 round direction connector, and a hex key. You get both the adhesive hooks and screw hooks as these are the two options for connecting the cables to, it all depends which one suits you best.
Installation
When it comes to installing the product, you have two option on how to install them. These are with the aforementioned self adhesive or ceiling hooks that are provided. However, KIWI Design do recommend only using the adhesive hooks if you have a level ceiling in your home – but I have seen other people's videos using them fine on textured ceilings.
Once you have decided what to go with, you then have to decide how you want to use the pullys. Your choices are using the round direction connector or to connect them all in a line.
Personally I decided to go with the adhesive hooks, with having the recommended even ceiling and with the round direction connector system. After these decisions were made it was so quick to install, all it needed planning the layout and sticking the hooks where planned to best utilise the system from my pc position.
Of course, the screw hook option would likely take a lot more planning and take longer to install. Also the hex key provided will allow you to extend and lock in some length on the pully, if you have a high ceiling. However, my ceiling is quite high and found no additional cable drop from the pully was required.
Benefits
This product is made to keep wires off the floor, but still offer the comfort as if they were running across the floor, and this is exactly what the product does. Not only does it do this well, but they have made sure the pullys are as quiet as possible with a noise dampener on the end. Once you are in the headset with the game volume playing even on a very low setting, you will not notice the noise for the pullys at all – keeping the immersion you want in VR,
Using the Product
This product can be used with all major VR head mounted displays, so for this review we tested it out with the four headsets we have available. I also tried to test across a number of games that I play often or have put a lot of time into. In order to get the idea of what a difference this system makes.
Before jumping into the games I also tried walking around in the place space with each head mounted display on, and found with the way I have them set-up there was a little tug in places as you got close to the edges. However, this was not jarring tug and gave me a good indication I was reaching the edge of the play area which isn't a bad thing.
PCVR
When testing on PCVR I wanted to visit some active games and also the VR shooters I love to visit.
I started with my favourite active game in Racket NX, the reason I decided to go with this one also, is there is a number times I have either became tangled or stood on cables when turning to use the 360 degree arena. What a difference this made once the worries of standing on the cable or getting tangled had gone. You were able to concentrate on hitting the ball than thinking are my feet in a safe position to move.
Where Racket NX is more about turning on the spot than moving about the play spaces, this is where the shooters came into play.
To test the Oculus I decided to jump into VR favourite Arizona Sunshine, and test it where you need to take on a horde of zombies. Where again there was not really much walking around in the play space, it was nice knowing I could duck down and crouch with a lot more confidence, knowing when standing up I was not going to accidentally stand on the cable on the way up and yank my head backwards.
The final PCVR head mounded display I checked it out with was the HTC Vive, and I jumped into my go to VR shooter Stand Out VR with the ProTube VR as well – the reason will be covered later.
When it comes to the gameplay again there is not much walking around the play space, but I find this is a game I am more than likely to take steps sideways or backwards physically to check out parts of the map. With knowing the wires were above my head again gave me a lot more confidence taking these little steps, knowing there was no chance of standing on a cable, I also do a lot of manual ducking down in this game, with the same benefits as I found with Arizona Sunshine.
The reason I mentioned the ProTube VR usage, is there has been times I have managed to get the end of the gun stock or the shoulder grip in the cable when ducking or moving. With the placement of the cable above me, it eradicated this issue.
From all of my testing I really think this a great solution for PCVR if you do not want to shell out for the wireless adapters available, and even as someone with years of VR experience it made me more confident knowing the wires are not across the floor.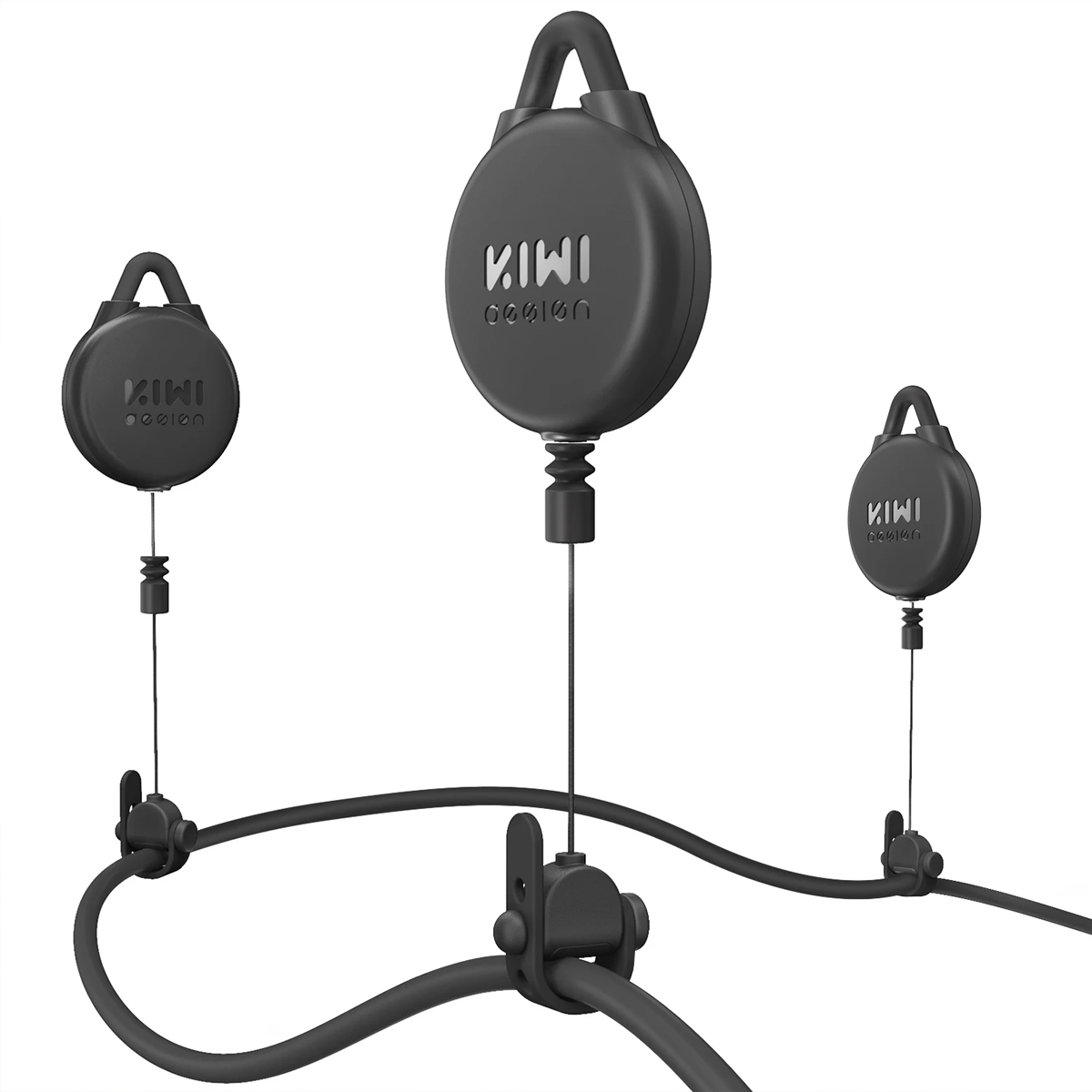 PlayStation VR
The PlayStation VR was a bit more of a tricky one to test, as due to the tracking you can't really turn around or walk too much without losing the tracking. Meaning there is not may cases where the cable will accidentally be stood on, due to your more often static nature when using the headset.
The main offender for me what playing PlayStation VR is catching the cable when playing Beat Saber and moving your arms, which for me having the cable above you is useful. But, the set-up is not as essential for PlayStation VR as it for PCVR users.

Pros
Easy to set-up
Comfortable to use
Cost-effective replacement for wireless adaptors
Very minimal noise made from the pullys
Works with all major VR head mounted displays

Cons
Permanent fixture, unlike wireless adaptors
Not much use for PlayStation VR
Conclusion
KIWI Design V2 Silent VR Cables do exactly what they are designed to do, and does it all well. Providing a much more cost-effective alternative to wireless adapters, with them only costing £26.99. These are something we would highly recommend for PCVR users who are very cautious of standing on their cables when gaming. However, we found they will have very little need for use on the PlayStation VR given the tracking system it uses.
Works will all major VR Head Mounted Displays
Buy KIWI Design V2 Silent VR Cables on Amazon
For the purposes of transparency, this review was created using a sample provided by the company or their respective PR company. The use of a press sample does not affect my judgement of the product.