One thing I really enjoy in Virtual Reality is a solid puzzle game and Devil Cow Studios have entered this market with PathCraft being published by Vertigo Games. The question is can it do anything to standout from other games that are currently available?
I would like the start the review by informing there is no story element to the game, which is a bit of shame as it could have given more to the game – and seems it would have suited one. So, this means you have no information on the character and why he is collecting power cells.
The puzzles fall more within the retro puzzle game scape, but of course in Virtual Reality – with it being more in the ilk of a Lemmings like game. The reason for this as it will see you micro-managing blocks and switches to try and help guide character to the power cells laid around the levels.
Where this might sound simple in premise they do introduce different types of blocks, switches and hazards to keep you on your toes and bring some level difficulty to the game. You will start with simple blocks that you need to move to block up holes, create stairs or stop the little guy in his tracks in order to get to where you need to be. They then introduce boxes that can only be touched a number of times before they break, switches that will move set blocks to set positions and rotate cannons. These cannons are one the few hazards that will be introduced with holes, paths ending and a death block making your job much more difficult. Later levels will see an introduction of robots that will needed to be taken into account for your puzzle solving.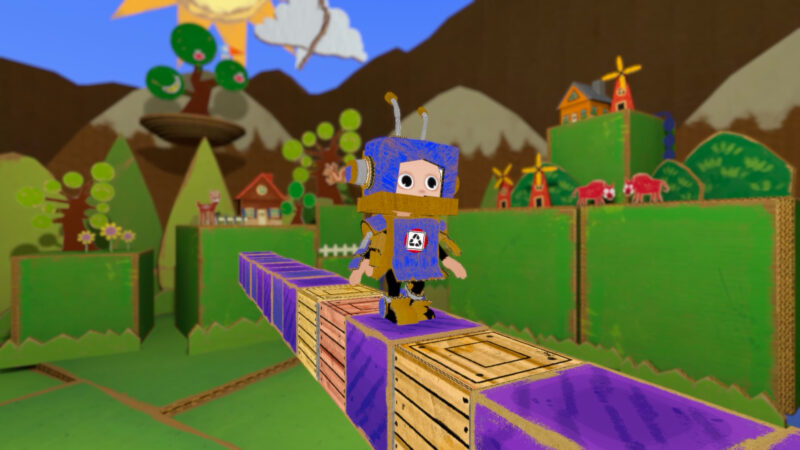 While trying to take in what is going to be required to get to the power cells around the puzzles, you will need to try and think three-steps ahead. This is because you are going to only be given a set number of boxes, so, you need to be ready to keep moving them in real-time – as the little guy does not want to stop walking. The game starts off with simple puzzles but then they soon increase in difficulty, with a number really leaving me scratching my head and taking a large number attempts to get right.
Your aim is to not only complete the levels, but complete them is a little moves as possible. Doing this will reward you with coins and you can buy costumes for your character, and also give you a better placing on the leader-board.
PathCraft is a bright colourful world straight out of child's imagination, and the presentation portrays this well with the levels being a cardboard diorama in vibrant and popping colours. The look is completed with the surroundings in the background following the same aesthetic.
For the sound the team have kept it simple by just using chilled background music and sounds that suit the current environment for the puzzles. With the levels being across nature, a city, underwater and space giving you a few different locations to keep it fresh while completing the levels.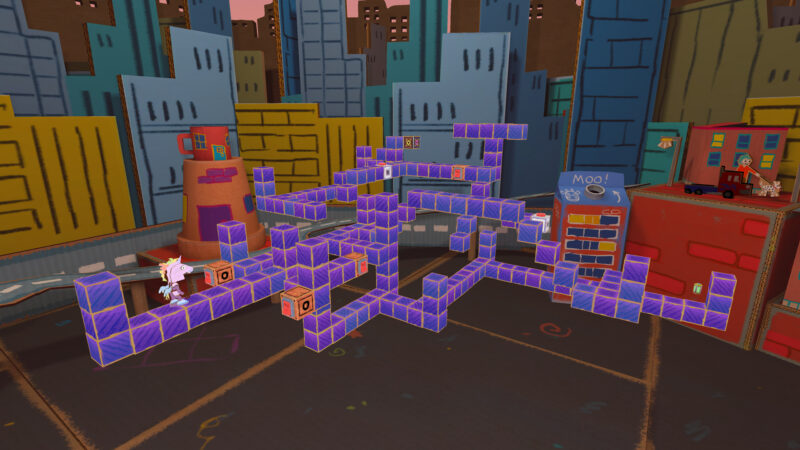 When it comes to comfort there really isn't anything that can cause any users any sort of discomfort. As you are moving blocks and pressing switches within a cardboard diorama you have no artificial movement and the ability to play seated or standing.
Control-wise all you will be doing is grabbing the blocks and placing them and moving the level closer or further away to get a better view of what the level has in store. However, you can not rotate the levels with the controls, so it will require some physical leaning to look around.
The game does come with a whopping eighty levels and with the difficulty increasing it took me around three and half hours to complete. With the base levels even though I did not get coins on all levels and did not have enough to buy all the costumes, I do not see myself going back to try and get coins on all of them and finishing off those costumes. However, for people who want more after completing the base game levels, there is a level creator where you can create you own levels and share them online for other users – meaning as long as people are sharing levels there is plenty of re-play value.
Reviewed using Meta Quest 2


For the purposes of transparency, this review was created using a review code provided by the company or their respective PR company. The use of a press code does not affect my judgement of the product.


PathCraft brings a retro-style puzzle game to VR, which is full of charm and presentation that really sells the feel of what the team at Devil Cow Studios were looking to achieve. They have also delivered a well thought out puzzler that will be fun for the whole family and can be used to introduce people to VR. However, outside of the puzzles it offers little more, so do not expect to be given a story – which is a shame as a story around a child's imagination would have been great. Overall, if you are wanting a game that focuses on puzzles that can be challenging in parts and you can dip in and out off when you want PathCraft will give you this.