Since Kludge Interactive launched Synth Riders two years ago, they have been bringing updates to the game. With improvements, new songs, stages, modes and modifiers coming – which has solved a lot of the issues we found when originally reviewing the game. The team have now launched their biggest free update yet, so, what does it offer?
Please note this is going to be mini review and will not be going into as much detail as our other reviews – given it is an update. However, if you want a more in-depth understanding of what we thought of the Quest version of the game, please feel free to check out our review.
The main feature of the update where the updates name comes from in Spin Mode. This modifier brings with it 90, 180 and 360 degree modes into the game, with the added 360+ mode, which will have to rotating while notes are coming from overhead.
We have tried out all the modes on offer across a number of songs included in the game and where the 90, 180 and 360 modes are fun in their own right, the game really excels in 360+. Of course the benefits of offering all the modes in this update is, that it gives the player the option of how much they want to rotate either for preference, restrictions they may face or if they slowly want to introduce themselves to the new turning movement mechanic it brings.
However, one thing that you will find with the 360 and 360+ mode is this will introduce a new level of workout to the game, and with the previous update that implemented the YUR tracker, you can really see the extra fitness benefits.
What is the most impressive about this update is the Spin Mode is available for all songs on all difficulties and even for your favourite custom tracks, as the team at Kludge Interactive have included a carefully crafted algorithm into the game.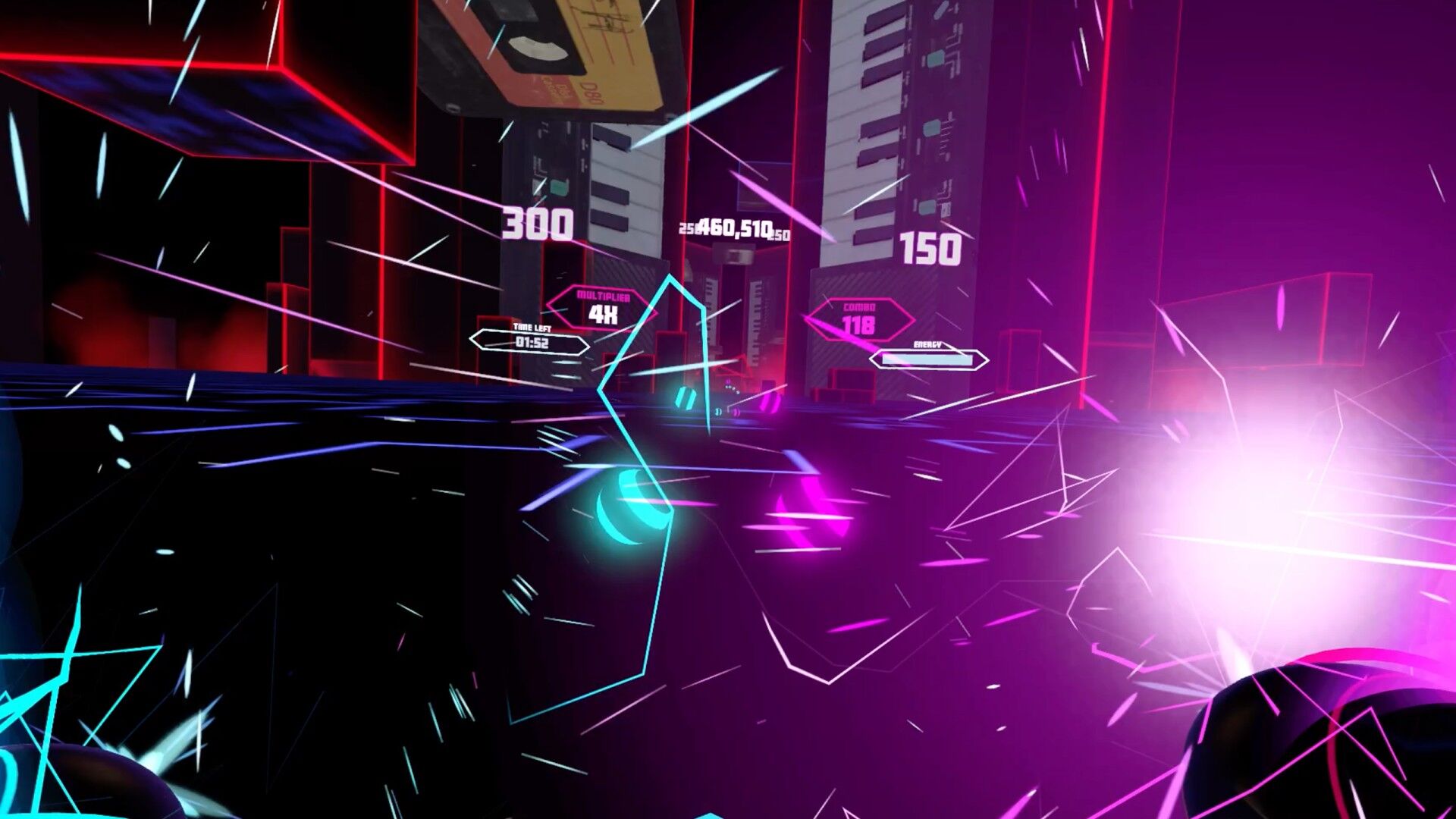 This is not all the update brings with it in relation to gameplay. It also brings with it a new stage named 'Spin City' for you to use, a new track and Play Profiles.
Play Profile is the next biggest addition in this update, which brings with it profiles that allow you to mix your favourite modifiers and save and share them with others. This addition also gives players five pre-configured profiles including Dance, Force and Spin. What is nice about this new addition is if you have favourite set of modifiers that you like for your playing experience, you wont need to set this up every time you start the game, all you need to do is select the profile and you are ready to go.
The new track is Star Fighter from Danish synthwave and retro-electro artist Wice. Which brings with a punchy bassline and plenty of obstacles to dodge as you go through the track. We have played through the track in all available modes, and its certainly a good new addition to the Synthwave Essentials Pack.
Other than this they've added some little updates including a refined onbaording system, Vanish notes modifier for the more experienced players, tightened hit accuracy and new leaderboards – which is refining the experience again for the player.