We got our first taste of Viveport around the release of Ready Player One, in order to play the Oasis experience that was at that time only available this way. After this it sort of went to to the side, and we never really looked at it all that much. But, with HTC Vive bring a subscription based service to Viveport, it was time to take a look at what this offered.
What is Viveport?
Firstly I think it is important to stay don't be fooled by the name, although Viveport carries the Vive moniker this will work with any PCVR headset.
Viveport is HTC's own store front application, which is the main reason it went to the side for us, as we getting overtaken by different store fronts for VR games and applications. This store front includes paid for content and the option of the subscription based service, in the same ilk as Netflix – but of course for PCVR games and applications.
Using Viveport Infinity
So, how would you differentiate your paid for products from the titles included in the Infinity service?
Firstly let's take a look at your options for launching Viveport as there is multiple ways you can do this, and then take a look at how you will indentify the titles included.
Desktop Application
There is a couple of options within the desktop application that will allow you to determine what is included in your subscription. You can chose App or Games on the top bar of the desktop application, and then on the left hand-side you will see under price; All, Infinity, Paid and Free. Selecting Infinity from this list will show everything available to you.
Secondly, if you perform a search, in the bottom right hand-side of the application or games thumbnail on the store you will see an Infinity symbol. This will indicate that the game is included in your subscription.
Our main gripe with the desktop application comes with the Library as this will list everything on your PC be it from Viveport or Steam, there is no way to separately filter which are your installed Viveport Infinity titles.
Viveport Launcher
HTC have brought a store you can launch in any of your head mounted displays, and this gives you multiple ways to look for apps and games. Personally I am fan of the design of the environment they have placed their VR store front in, but this is the hardest to navigate out of them all.
When it comes to looking for the games that are involved in the Infinity subscription, on your right you will see a button with four squares on it, pressing on this will open a menu and you can chose to filter them by Infinity titles.
On this side you will also find a search button, search for the title and as with the desktop app if it is included in your Infinity subscription it will show you the Infinity logo in the bottom right.
Steam VR
If you are using Steam VR, which you will have to if using Infinity as this is how it will launch all your games. You can bring up the Steam VR dashboard and it will give you the option of Vive. This will now open the Vive Store Front within the dashboard. But, this is a very limited store front for finding the games, and when downloading them it will boot into Viveport VR Store Front – so you might as well search directly from there.
As with both the Desktop App and Viveport Launcher, you will be able to determine which games are in your subscription by the Infinity logo in the bottom right corner.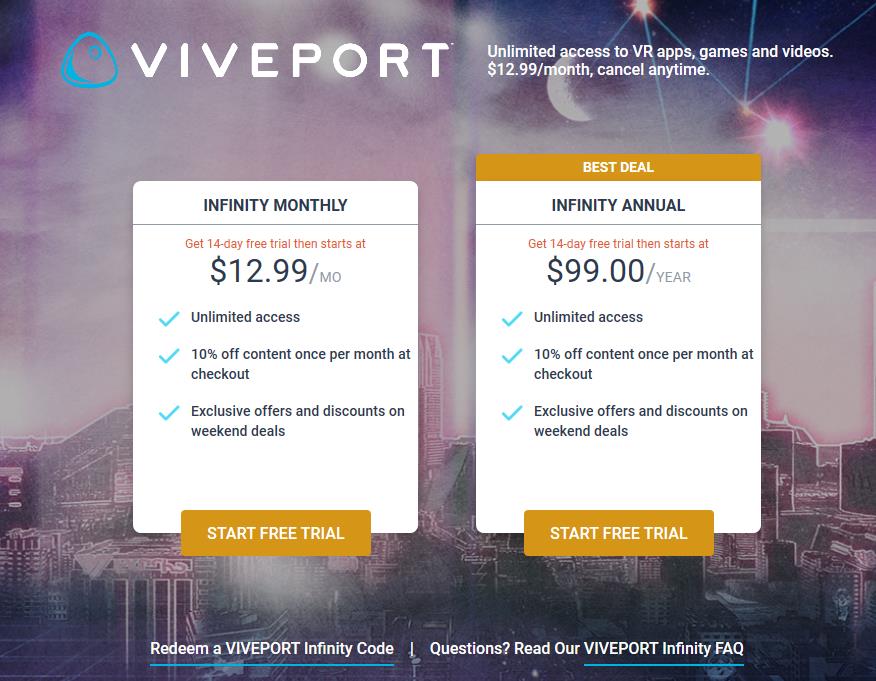 Supported Head Mounted Displays
As previously mentioned, don't be fooled by the Vive branding it does support every major PCVR head mounted displays.
But, not every application and game within Viveport and will support every headset – you will need to check separately if yours is supported. There's two ways to do this, and both are really simple to do. The first way is to hover over the thumbnail and it will show you across the bottom. The other way is to click into the game and in details it will show exactly what headsets and controllers it supports.
However, a majority of the games will bring support for most of the head mounted displays.
Benefits
There is few benefits that come with the Viveport Infinity, with the main one being it gives you instant access to 100+ Applications and 650+ Games, which is a lot of content for your monthly or annual fee. You then also get 10 percent off a paid title of your choice per month on the Viveport Store. With the subscription bringing exclusive offers and discounts on weekend deals. The final benefit is you get access to some of the high-quality 3D video that is available on the Viveport Video Application.
Are The Games and Apps Any Good?
When first looking into what is offered on Viveport Infinity, we were surprised at some of the games and applications included. With some of our personal favourites being in the list of available games and applications – and they are big hitters with the VR community to.
There are applications like The Blu, Tilt Brush, Nature Treks VR which we enjoyed using. Then there is even some we have wanted to checkout and never got around to, and we are looking forward to doing this via Viveport Infinity in Animvr and Everest VR.
For an example of the games we have loved, you have highly rated titles like Arizona Sunshine, Siarento VR, SUPERHOT VR, To The Top, Moss and FORM – just to name a few. Again there is some games available we have not had the chance to play and will be checking these out like A Fisherman's Tale, Five Nights At Freddy's VR, Final Assault and Racket Fury and many more.
Another great thing about Viveport Infinity is some titles go straight into this on day of release – the latest being Doctor Who: The Edge of Time – which we thought was fantastic.
Of course not every application and game is going to be high quality as the ones mentioned, but when you are getting the access to them it gives you the chance the check them out. You never know you might find a hidden gem within them.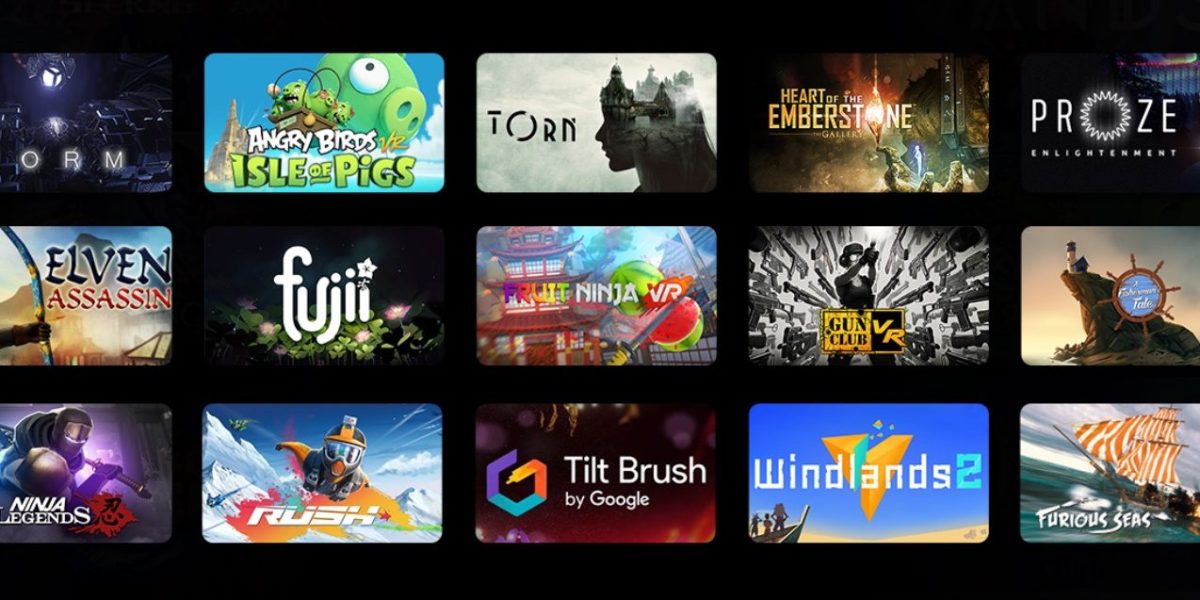 Is Viveport Infinity Worth It?
There is two ways I really want to look at this and give a better idea of the value of the subscription service.
New VR Users
If you are just getting into VR or just got your first PCVR headset, then I would highly recommend considering Viveport Infinity. The reason I am saying this is the platform gives you access to so many great applications and games – old and new. It really is like a big all you can eat buffet for VR when you are stepping into it for the first time. Bringing content across all sorts of genres of VR games and applications, meaning you have a good chance to have a little nibble or a big bite at the titles without forking out the separate costs, to find out it's not the experience for you.
This can allow for a large saving at the start of venture into the PCVR world. If you are looking into the cost side of purchasing even the top twenty-five most played titles within the Viveport Infinity subscription, you will be looking at paying around $500 (USD), That would be the same cost as five annual memberships – and thats only twenty-five of the 650+ that are available to you.
Current VR Users
This is one area we were sceptical about Viveport Infinity at first, thinking as someone who has been invested in VR for a while, what benefit would it be to us? However, I was pleasantly surprised and the value it had even for me.
Why do I think this? Although I have been invested in PCVR for a couple of years now and have most of titles in the top twenty-five most played, there was still a good bunch of titles available I had not played. Be this down to them being older titles I never got around to playing like I Expect You To Die. Titles I wanted to play but just could not justify the price for what I would get out of them like Fruit Ninja VR. Or finally newer titles I had yet to check out like Groundhog Day: Like Father Like Son.
We have taken a look through the games and applications available and only taken out a hand full to get us started and totalled up the cost of the titles on Steam, and even the ones we have downloaded so far to buy them it would have cost close to $195 – again two annual subscriptions and we have not finished yet. For clarity please find these titles listed below with the cost of the game on Steam;
Grondhog Day: Like Father Like Son: £29.99
A Fisherman's Tale: $14.99
Five Nights at Freddy's VR: Help Wanted: $29.99
Racket Fury: Table Tennis VR: $19.99
Fruit Ninja VR: $14.99
I Expect You To Die: $24.99
Final Assault: $29.99
Animvr: $29.99
This was just the start as well, there were other titles we seen but have yet to install. So, as you can see Viveport Infinity is great value for New and current VR users, and with more titles being added you are going to keep adding value onto the service.
Please note: Until December 1st, you can get a massive saving on Viveport Infinity's Annual Membership, as part of the Black Friday Sale, find out more here
For the purposes of transparency, this review was created using a subscription provided by the company or their respective PR company. The use of a provided subscription does not affect my judgement of the product.