YouTube 360 Video First Impressions
On January 20th the YouTube application on Playstation 4 received an update to allow the use of the 360 videos using the Playstation VR. I've been waiting for this to come to the Playstation, and I could not wait to try it out.
This would not be my first experience with 360 video, as there is already a number of 360 video applications available for the Playstation VR – Littlestar VR, Vrideo, and Within. But, from my experience with these applications Littlestar and Within have a large amount of the same videos, and the quality on all three applications was low. A massive issue I found mainly with Vrideo was the application had to buffer a lot, and for low quality videos it wasn't worth the wait times. All three applications also seemed to remove content as they added more, so some of the videos would be gone over time – Is this something YouTube 360 could improve on?
From first loading up YouTube I got the option on the VR version on standard version., choosing the VR version gave a large screen like the cinematic mode on the Playstation VR, meaning you can also watch the standard videos on a large screen, which was a nice surprise really. I was shocked it did not auto load on the 360 video category though, and you had to navigate to this – saying this it was not hard to find the category. But, once I was on the correct part I was surprised at the amount of content that was already available, and the amount of areas it also covered.
As just mentioned above the application has a lot of content already available on just the category. I then found while watching videos that the up next video was quite often not listed in the category – meaning there is a lot of content you could probably search for. Although, straight away on the 360 video category there was a wide range of different content from gaming videos, nature videos, experience videos, and music videos to name a few. I found myself watching some purely because I feel they were something I would never get the chance to do it in my lifetime. These included getting up and close with lions, plane walking, going into a volcano, and urban exploring on high-rise buildings and across the top of unfinished bridges.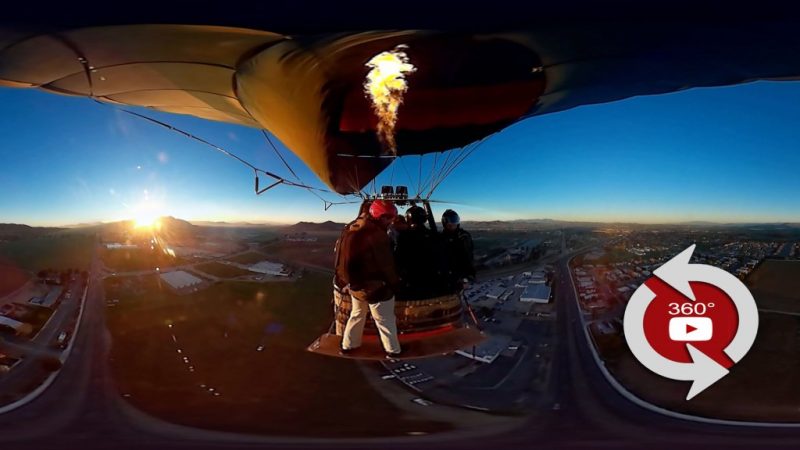 From the content I watched there was some great experiences, the urban exploring was one that stood out for me, and one I would recommend watching. Also, going back my teenage years there was a skateboarding video, and it was amazing watching some skateboarding in 360 video, especially when they were doing tricks over the top of the camera in the bowl. Going with my main hobby of gaming I was pleased to see gaming also getting videos – although a lot were exploring Minecraft creations, but the best gaming video experience was getting to watch the Hellblade trailer in 360, and also watching an episode of Red vs Blue. I also enjoyed the music section, and getting to watch bands performing in 360 video, or even just feeling like you were in the music video.
I mentioned previously that the video quality seemed to suffer within the applications that were already available, and unfortunately it seems to be the case with these videos as well. Some videos seem to hold out quality-wise more than others, but I would say I have not watched any video that does not have a block-effect for parts of the video. I am not sure if the video files would be so big in file size that they have to reduce the quality in order to make them buffer smoothly, but it does take away from the experience at times. In regards to buffering I am happy to say that there was no buffering issues at all with the YouTube 360 videos, but with the low quality you would expect no issues from a service like YouTube.
As with the VR technology I do have hopes that it will still get the support and improve going forward, in both content and quality. Personally, I would love the see things like VR movie trailers, and perfect for the 360 video platform and the medium – VR games getting VR Trailers. I think with the technology of 360 video there is a lot of options available if it is adopted correctly.
From the time I have spent with the YouTube 360 video option so far, I think that it does offer a lot of promise, and is a good experience. But, I could be made a lot more immersive and impressive if the video quality was increased to not suffer from the block-effect associated with low quality video. I am hoping that it is supported by multiple areas, and we see the introductions of other VR experiences. Also, that the content is not slowly removed as more is added – like my experience with the other 360 video applications available on the Playstation VR.
Article originally created for http://www.gamesbulletin.uk