After really enjoying my first look and the play test of After The Fall, I have really been looking forward the games full release. I have now had the chance to run through many harvest runs in the full game, but, does it still have that pull?
In After The Fall you take up the role of a Harvest Runner, who's job is risking it all in order to give mankind the hope of surviving another day. Which brings in the main gameplay and mode called 'Harvest Runs'. These will see you heading into a frozen post-apoplypic L.A, and taking on the Snowbreed and collecting harvest – the games currency.
When it comes to the Snowbreed there is a number of types. These can be standard Snowbreed, which can have some differences in speed and aggression. An Eater, which is a rather rotund enemy that will explode when killed. A Juggernaut, that will just charge at you, grab one of the team and you don't do enough damage to make it let go, will instant kill your team mate. The Brute, that will charge at you at some speed and aggression and have some ice armour. Then finally the Smasher, this is games largest enemy that has armour covering all its weak points you need to remove, all while taking on attributes of the Brute with the one hit possibility of the Juggernaut.
The full game gives you five-locations around L.A to go out into the cold, kill Snowbreed and collect that harvest. The Harvest Runs, can be done with up to four-player co-op, and if you don't have a team of four, you can either search for the other members or just head out with AI characters by your side. This allows players to take on harvest runs on how they like.
If you don't have squad, you can either look for other players searching for a game, or just look around The Line instance you are placed into and invite players to your party. The Line is a public lobby that will hold up to 32 players in one instance, that you will be placed into between each run. This is going to be made up of players across all platforms in your chosen region, as the game has cross-platform between all available releases. This means the team have introduced an in-game friends list as well, meaning if your friend is in a different region or instance of the Line you can still party up using the friend list.
Before starting your run you will be given the chance to buy items to help your team survive. From rockets, juicers and pipe-bombs. Outside of the staring room, you might find these on frozen harvest runners, who have failed previously – so take what they no longer need, and also get a number of Safe Rooms which allow you stock up. These items can be stored in one of two inventory slots each player has available – so if you are working as a team it is best to discuss what people are going to be taking. As, a mix of pipe bombs and juicers (used to restore health and revive fallen members) might be essential to that run.
All of these items are brought with Harvest from recycled arcade machines now called Havest-O-Matic's, but of course spending harvest through the level, means less reward at the end of the runs. You might be asking; why is it important to have harvest at the end still? This is because any upgrades to your weapons you can do back at The Line also cost harvest, and you can also fabricate unlocked weapons here as well.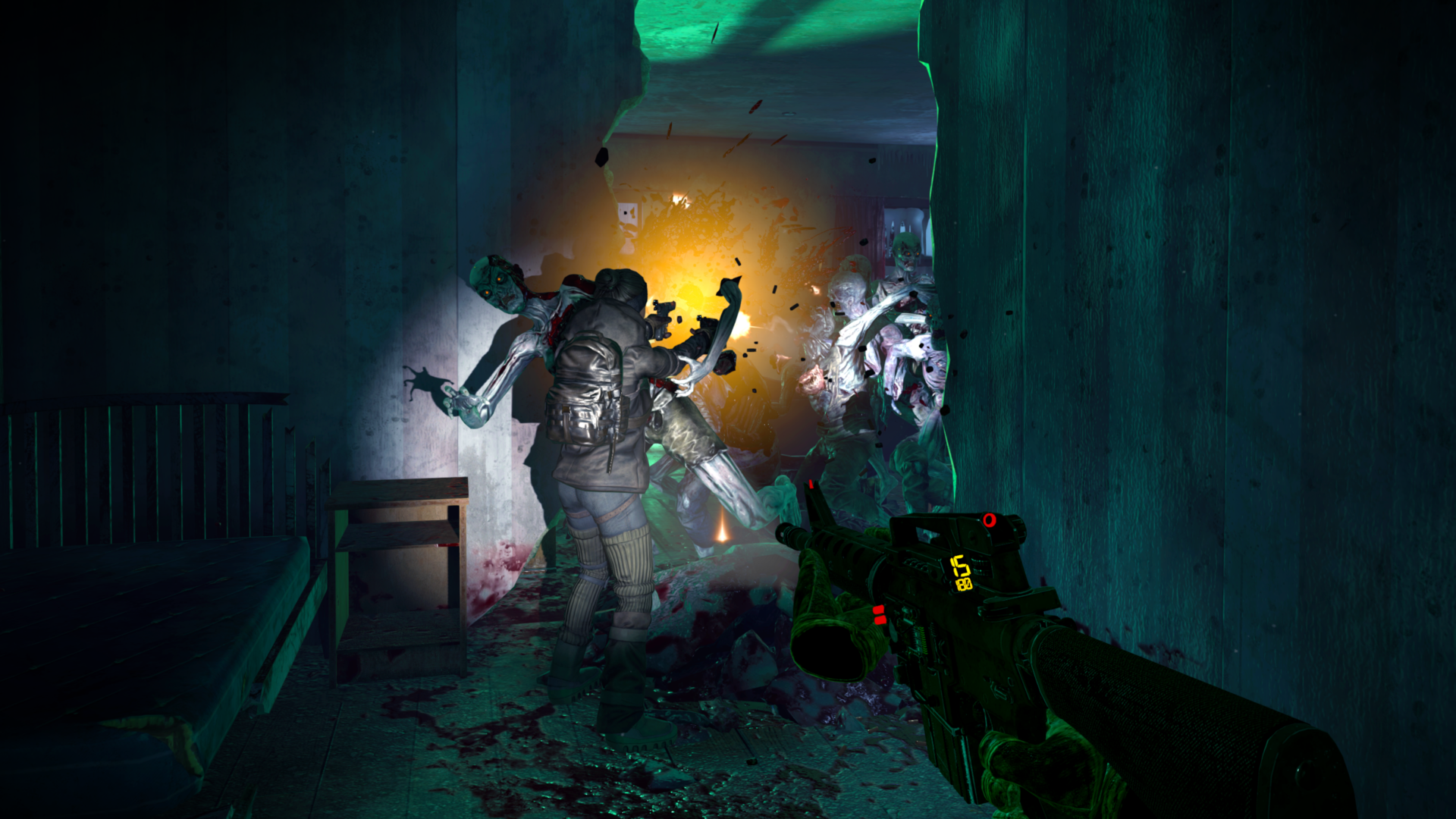 The weapon upgrades are important to prepare you for the taking on the Harvest Runs on higher difficulties, and you will see an increase in the amount of the Snowbreed, they will take more to kill and are also a lot more fast and aggressive – so those upgrades could save you or a squad members life. For the hardcore players out there as well, you can head into Nightmare difficulty, meaning if you fail to complete the run you will lose all gear you were carrying on that run, this is where saving harvest could be essential.
This bring in some of the final little touches on the runs, these come in the form of floppy disks and ID Cards – which can be located in the levels. The ID cards unlock another room somewhere in the building that will give you a stock weapon, that isn't your factory pistol. Then the floppy disks are used to unlock attachments for your weapons. These can either be carried through until the end, but have to placed into one of your inventory slots, or if you have a safe room before the end of the game, you can place them into the Harvest-O-Matic and it will unlock something as long as your run is successful.
Outside of the Harvest Runs, the game also offers a PvP mode, and one thing I found from the play test is this mode should not be overlooked. With the full game launching with two maps, and the ability to do 4v4 team death match in either open or private games. Giving those who want to settle a grudge outside of the harvest run a way to do it, or even just having a blast with a group of players.
After taking my first look and playing the play test on PCVR, I was originally concerned about heading into the Quest version, and seeing how much it had to be downgraded to run on the standalone device. But, I was pleasantly surprised on how the team have got it looking on the Quest build. Yes, of course you can see the downgrades, but it still looks great working your way through frozen L.A, and taking on the Snowbreed. With dismemberment still being present in the build, as well the snow being painted red in blood – with me really expecting the later to be toned down for this build.
The sound design gives off that cold feeling, with the breezes being heard throughout the destroyed buildings and outside. All the voice acting is delivered well, and does not distract from the game, which is something you can sometimes find. Then when taking on the hordes of Snowbreed you get some music to turn up the intensity of the fights, with the use of audio. All around making for a good use audio to set the feeling of the game.
With the frozen environments still giving you that feeling of awe, the Snowbreed still being just as freaky, and the use of the audio really makes you feel immersed in the world of After the Fall.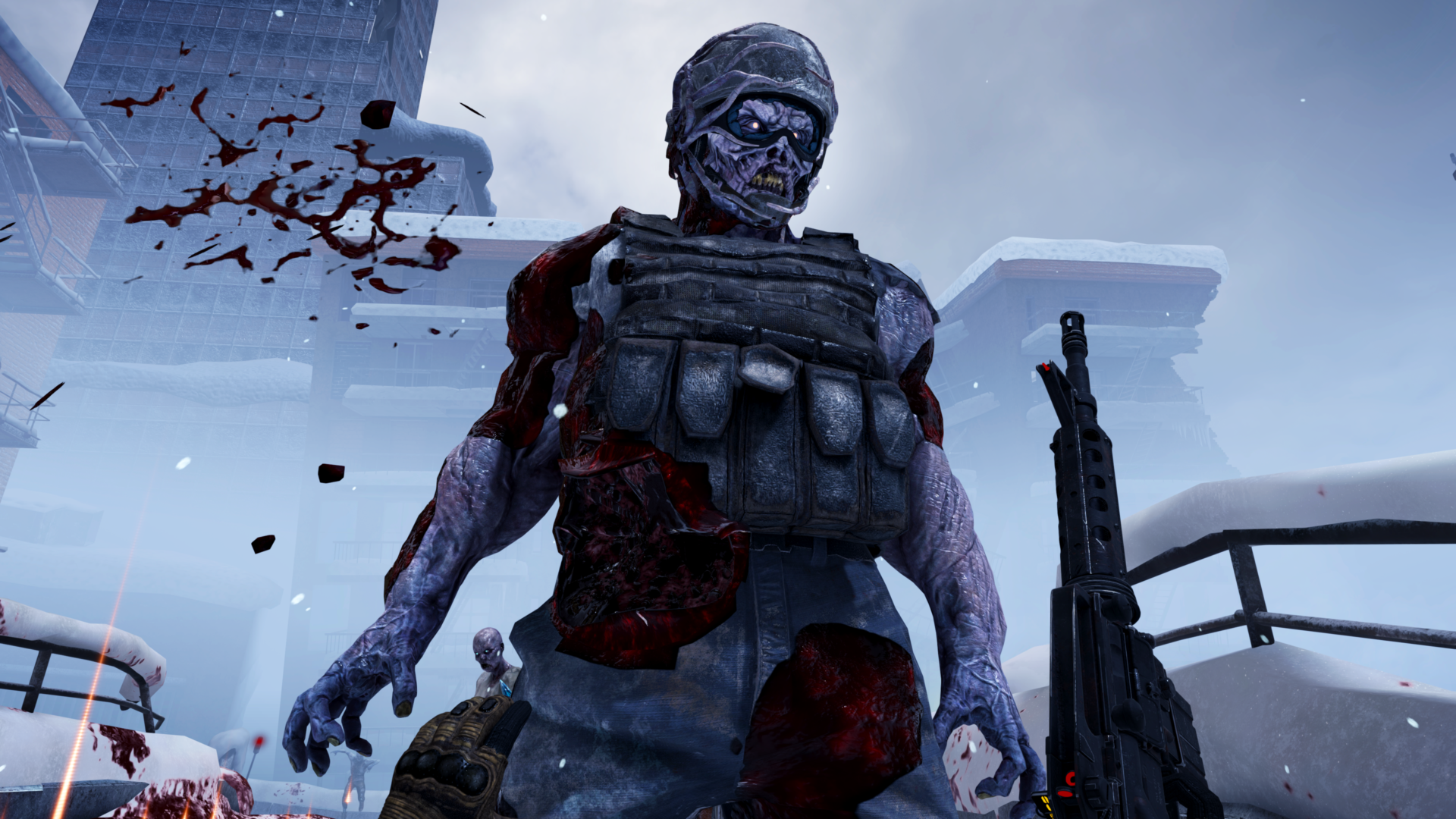 With the game coming from Vertigo Game's, you play the game seated or standing with the flick of an option. The game also comes with a large number of comfort options, that you expect in VR games, to make them accessible to experienced and new VR users.
They have taken the approach you expect with a shooter in VR when it comes to the controls. Grips to grab your weapon, trigger to fire, and allowing for both left and right handed mode. However, the team have offered two reload systems, a basic and advanced. The basic follows the reloading system from Arizona Sunshine – eject the mag and bring it to your ammo pouch to reload. Advanced brings the manual reload and cocking system, with this mode also bring a boost in harvest for the player. Where this is also a personal choice for the player, it also offers newer VR users the easy reload to start with – again making it more accessible for any level of VR player.
The game has five Harvest Run's available, all of which take around thirty to forty minutes to complete, depending on difficulty and your squad. However, in order to stop these becoming stale they do have random spawns, so and area where you might have had little Snowbreed resistance in one run, might turn into a massive fight the next time. It could be a run with only few larger Snowbreed, or sometimes you might find yourself taking on a number of these at a time.
Then taking into account the floppy disk and harvest upgrade system to make you more prepared for the next and harder runs, it has that feeling that will keep players wanting to return. Adding to this a weapon skin system, with skins being locked behind set milestones or challenges with each weapon, will have people working towards to their favourite skins.
Meaning if the Harvest Run gameplay loop appeals to you, there is many reason to keep returning and taking on the Snowbreed. Then, with the option of PvP multiplayer, means you can take a break from the Harvest Runs and still be having some fun in the game.
Reviewed using Meta Quest 2


For the purposes of transparency, this review was created using a review code provided by the company or their respective PR company. The use of a press code does not affect my judgement of the product.

ter The Fall really lives up to the billing, in what the team was promising the game would be. With the main mode Harvest Runs being great to do with with AI or a squad of other players – with the game really excelling in co-op. Bringing with a harvest system used for items and upgrades really giving players a reason to return, however, this type of gameplay-loop might not be suited for all. With the game bringing cross platform play between all systems, it means not only the possibility of the servers staying populated, but the ability to play with any of your friends with no platform constraints. If you have been hoping for a game like Left 4 Dead in VR, this game will be down your ally, with a great upgrade system on top.