As our interest in standard gaming started to die off, we started to get a love for visual novels, and this is something we have not had much luck with in VR. We have now played through ALTDEUS: Beyond Chronos, but did this game scratch that long lasting itch?
200 years after humanity is forced to live beneath Earth's surface by powerful aliens called Meteoras, an organisation called Prometheus is defending the planet the best they can with mechs known as Makhias. This introduces your character, Chloe, who is a designed human, sort of like an advanced AI from Detroit: Become Human – who is the pilot of one the mechs, and fights with revenge as a motivation. Although the designed humans are not configured to have emotions, Chloe has learnt to have feelings from Coco, someone she was tasked with guarding when not piloting her Makhia. After Coco taught her to feel emotions, she was devoured by a Meteora, now Chloe only fights for one reason… revenge.
When it comes to gameplay, your going to get what you would expect in most visual novels. This will come in two main parts dialogue with options on how you respond, mixed with some point and click elements in the environment that was bring with it the next set of dialogue. This can be just finding more about what is in that scenes environment, or finding clues that will bring with it more of the story within the dialogue. The parts you need to click on are easy noticeable, so you will never get stuck on these parts.
Next up are the dialogue sections, that form the biggest parts of a visual novel. You can expect a massive a part of the game to be dialogue and watching the story unfold in conversations with the other seven characters in the game. At points in these dialogues you can choose your response, and these choices can take the story on a possible four paths.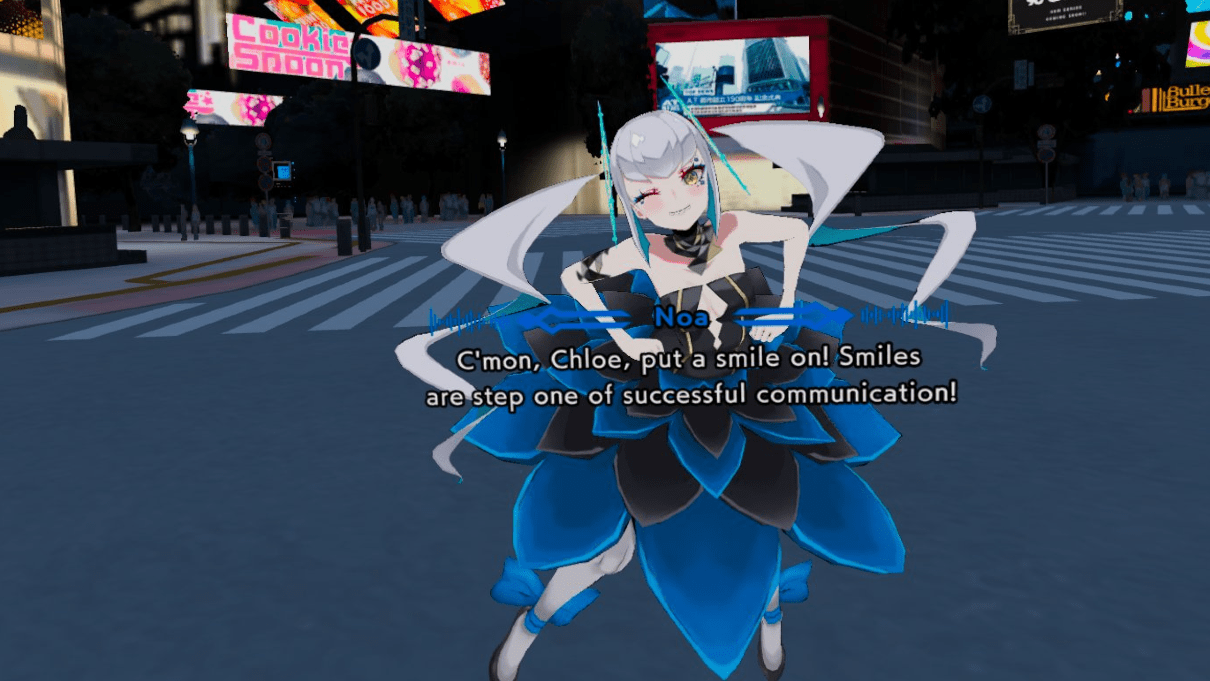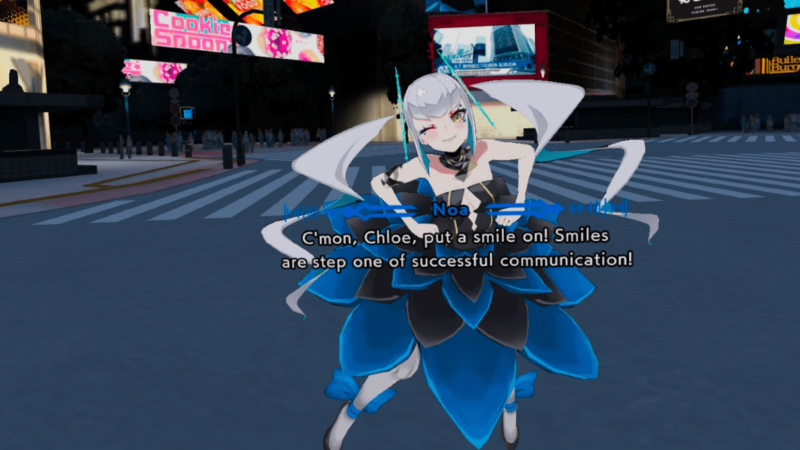 Then the team this time have added some VR elements to the game, which play a small part overall, but brings some VR to the visual novel. This will see you collecting items that activate memories, however, this does come with some downfall in VR design. One element of the feeling like you are in VR, is the fact you can pick up items – but in the game the item will glow and when you click it, the item disappears into pixels and appear in your hand.
The next part of the VR, some people might be let down by is the combat in the Makhia, as you get connected to the huge mech but you don't get full control of it. These sequences will see you get panels in front of you, and you will need activate them all them to use a shield. When it comes your attack you need to put two pieces of your weapon together and then use the trigger to stop at the power level provided Noa (you mechs online system). Where the controlling of the mech being this way might seem like a let down, I find it suits the visual novel design. But, it's great to see them bringing some VR interaction into the game – something that was missing from Tokyo Chronos.
Visually, again you will get what you expect from a visual novel, a cast of characters that you will be interacting with and will be very noticeably different. Although, one thing we can certainly agree on the design of Professor Julie really stands out, with her wacky and odd design, from her dress style to her extremely long arms and fingers.
One great thing about the playing a visual novel in VR, is the presence you have in the scenes, having these 3D characters in front of you and being able to look around the environments, making it all feel more connected. All the character models are really well created in VR, and this is carried over with the environment designs and creation. Our main issue with the design side was the way the team handled the character model for your character, with it having hands and then the only other part of your body you could see was the chest region as you look down.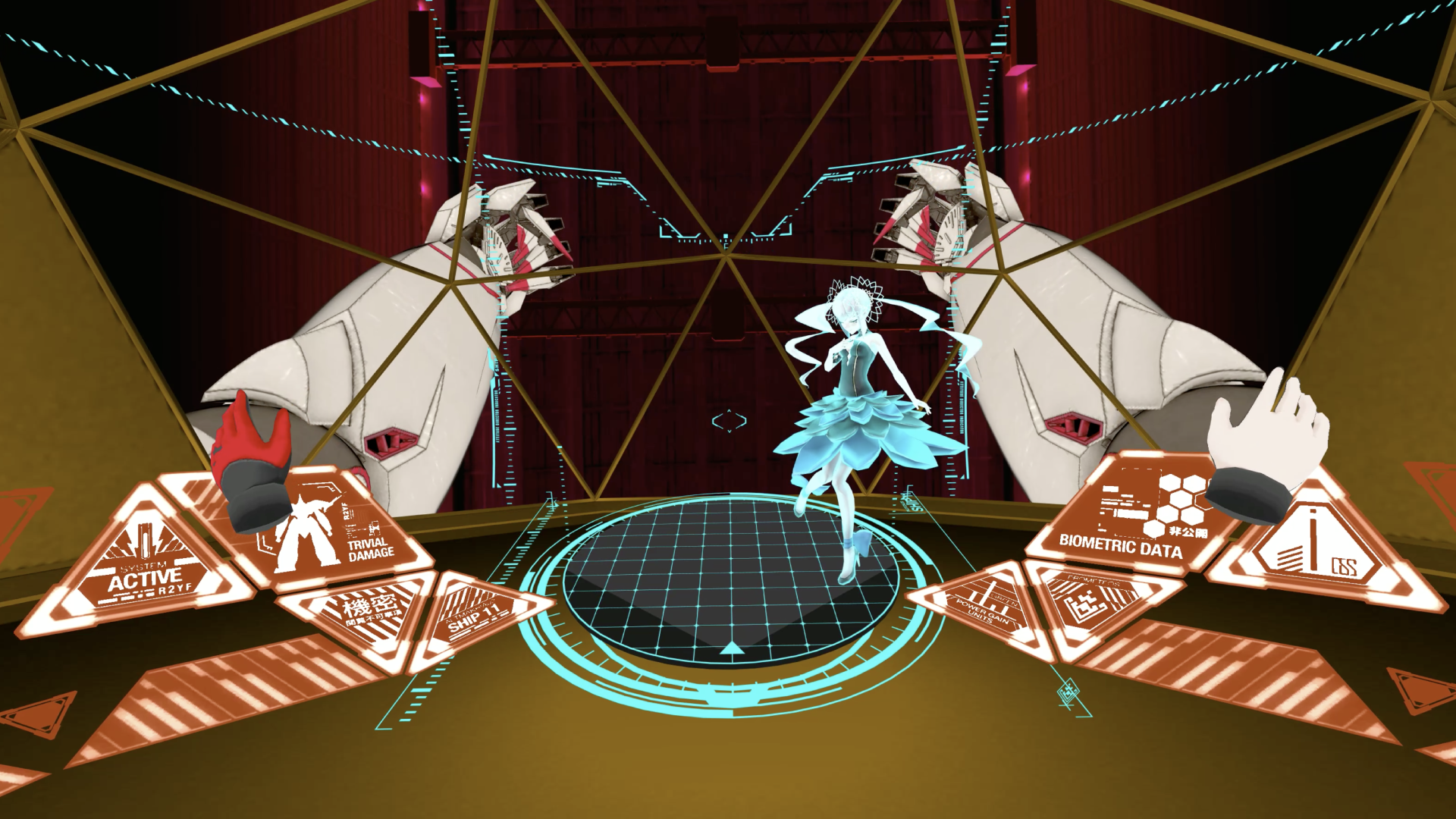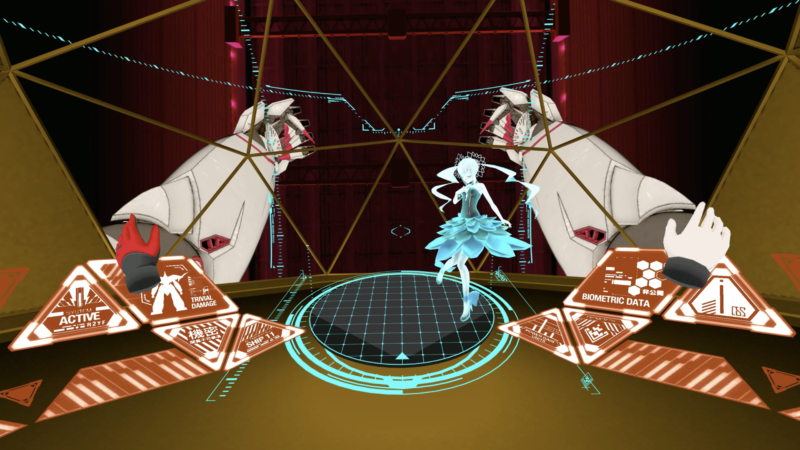 Another step in the right direction the team have taken from Tokyo Chronos is bringing in regionalized audio, meaning your are not left constantly reading the conversations. What was going to be important on this change was the voice acting was solid for each region, and we can have no complaints in this area. We found all the voice acting was strongly delivered, and gave you connections to each character – again something important for visual novels.
Although, we have been impressed with the overall presentation, it doesn't stand out as something massively different in the visual novel genre, and some of the environments are lacking some finishing touches.
This is an area that never mind your experience and level of VR legs will not matter, as the game is basically static, with the only movement coming for a very brief period in the Makhia. With this in the mind the controls are physically touching the panels in the mech, and pointing and clicking with the trigger to investigate environments.
With the game bringing the aforementioned branching story archs, it offers four endings. With one single play through lasting around three to fours hours, it means if you want all see all four endings it offers around fifteen-hours playtime.
reviewed using meta quest 2


For the purposes of transparency, this review was created using a review code provided by the company or their respective PR company. The use of a press code does not affect my judgement of the product.


The team at MyDearest Inc. have taken some steps in the right direction of bringing more VR interaction into visual novels on the medium with ALTDEUS: Beyond Chronos. Bringing with it the great narrative and storylines you expect in the genre. With this being said if you are not a fan on visual novels this game wont be for you, as it sticks to what makes them so popular with their fan-base. With the four possible endings the game offers reasons for players to return after their initial play through, allowing for an impressive playtime of around fifteen-hours – but this will depend on each individuals desire to explore all the endings.