When we first heard of Tetris Effect on it's announcement for PSVR, we were certainly intrigued but it had us questioning would it transfer well to VR. However, as soon as we got the chance to play it at EGX 2018 it silenced any of those thoughts and became a game we had to get on day of releases. Now, the game has been released on the Oculus Quest, so we have dived into this version, but how does it hold out?
Why is it called the Tetris Effect? If you are not aware the Tetris Effect is a name for what occurs when people devote so much of their time and attention to an activity it begins to pattern their thoughts, mental images and dreams – which took it's name from Tetris. As people who have played it for a prolonged time might find themselves thinking about different shapes in the real world and how they fit together.
With Tetris being well known by gamers of all generations I think it would be pretty pointless to talk in this review on how the gameplay works – but I think it what is interesting is how they have approached this in VR.
They have brought a variety of game modes into Tetris Effect – each of which will all provide a different experience. Resulting in changes on your approach, your skills and your reactions. We would recommend starting with Journey mode, which will take you on a trip though all the stages and offers different difficulties – with each stage altering between game speeds never mind what difficulty you play on. Then outside of this they offer different modes that will allow for a slow zen-like experience to more hectic fast paced gameplay that will really test your reactions for sure.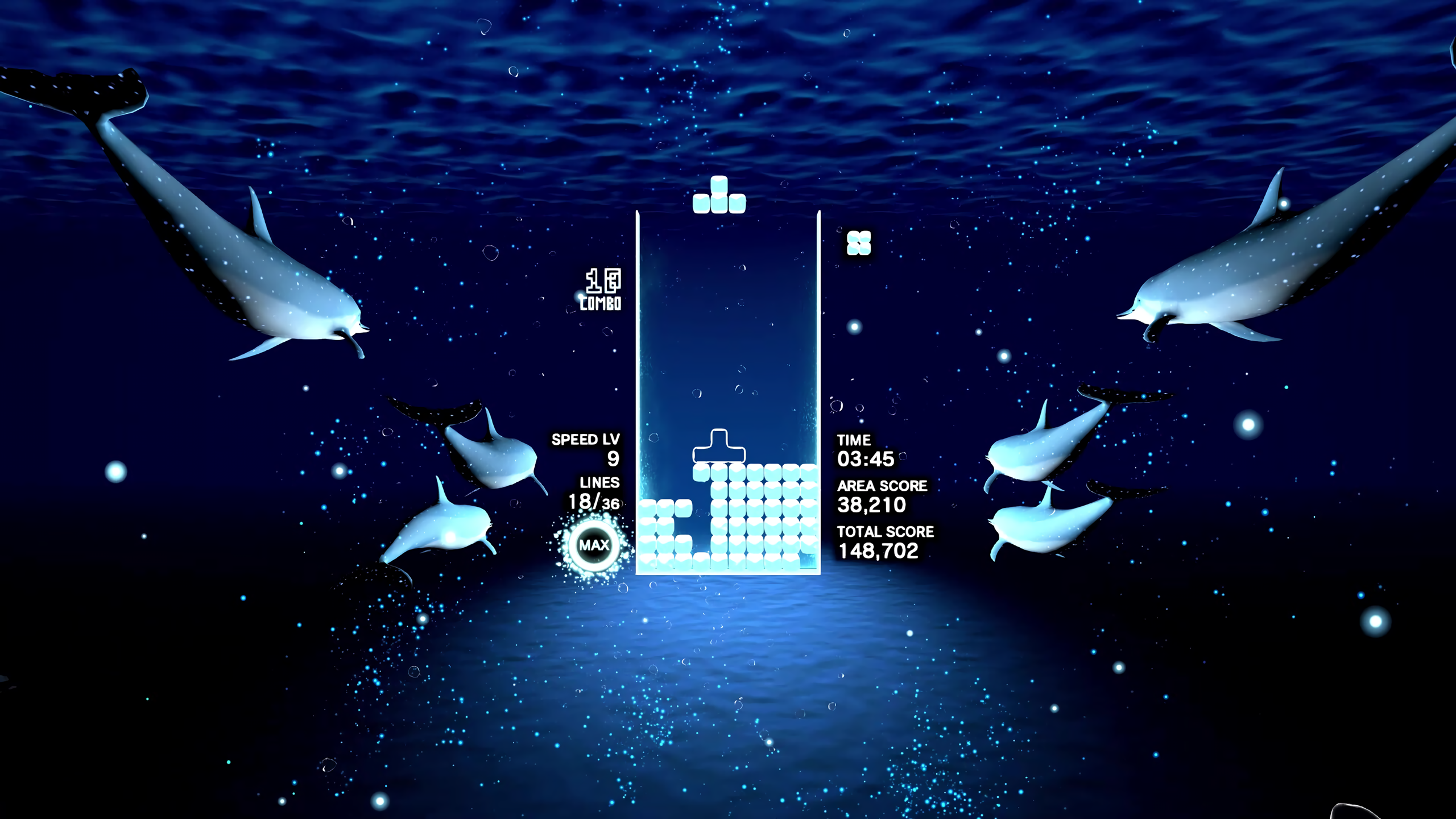 So, where was are getting the essentially the same Tetris, some gamers have known and loved since 1984, what makes it different is the approach that Enhance have taken. We have seen Enhance's previous work in bringing a flat screen music game to life in VR with Rez Infinite, and they have taken the same audio visual approach with Tetris Effect.
This is where Enhance have done the work in bringing your standard flat Tetris surface to life. As previously mentioned they have brought audio visual approach into the game to do this. This is done by bringing elements around the Tetris board to life – from being in a tribal camp fire setting to underwater with dolphins swimming either side of you. Then add to this other effects that suit the settings and the change in design of the Tetris board really make this visually stimulating to play.
The visuals are only the start of this experience, as the use of audio is just as important in what Enhance have done with the franchise. With the soundtrack being one of our favourite parts of the game, with each setting in the game having a song that suits what you are seeing, and also increasing and decreasing tempo to suit the speed the blocks are dropping at. Fully taking you into the experience and nodding your head a little as you play.
You might be thinking does this not distract you from the game with what is going on around you and the music being so catchy – where this can be at first, you soon become transfixed in the game and manage to take it all in without loosing your concentration on the board.
One thing we are so happy with is the soundtrack now being available on Spotify to listen to outside of playing the game – it's getting a lot of playtime here.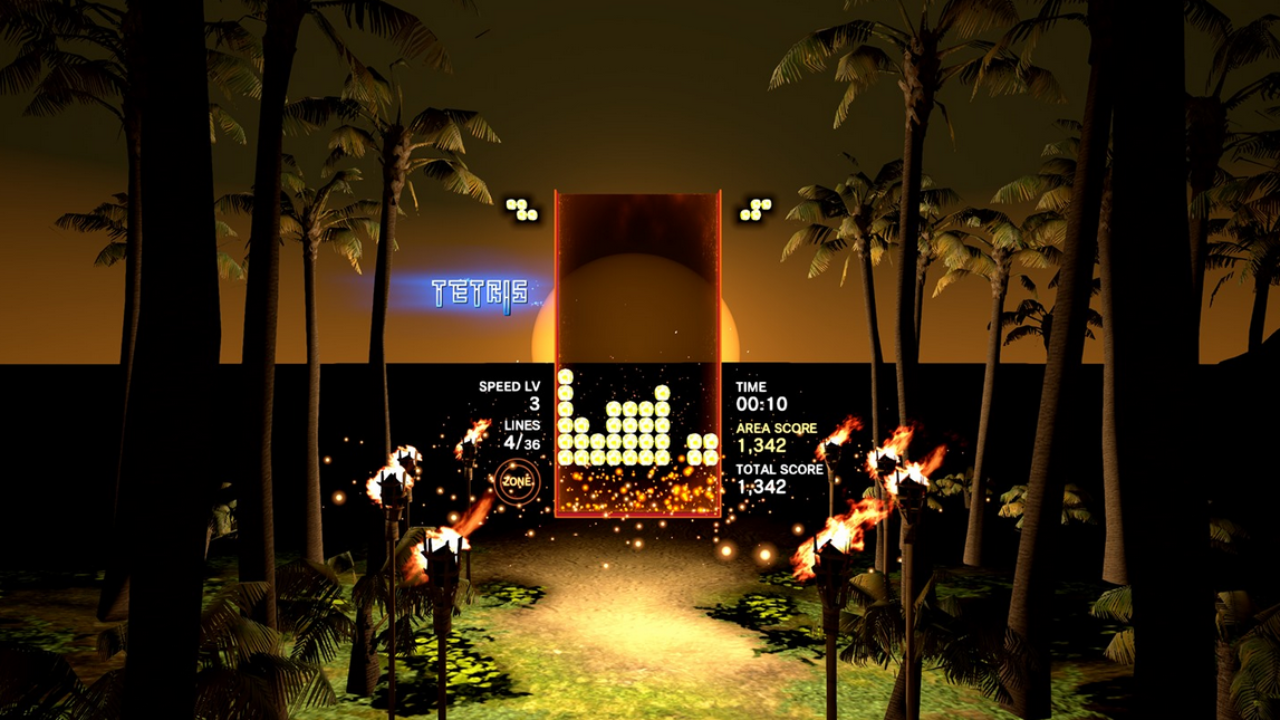 When it comes to the controls we found although it was very playable with the Touch controllers, when it comes to more intense and faster levels and modes the analogue controls weren't perfect. This sometimes led to us dropping the blocks a lot quicker than expected and misplacing them. However, if you find yourself doing this and have a bluetooth controller (like a Xbox controller), you can connect this to the Quest and use this – which we found was a better way to play.
With this being Tetris the game is made to played seated, meaning there is no need for a larger playspace and it will be comfortable for anyone to play.
The longevity of Tetris Effect is pretty much endless if you are Tetris fan, and if you are purchasing the game we would expect you will be. With the Quest version it is so simple to jump in for a quick game with it being a standalone headset, and also for those longer sessions if that is what you want. With all the modes available and how it really grips all yours senses when you play it, you can enjoy playing it over and over again.
reviewed using oculus quest


For the purposes of transparency, this review was created using a code provided by the company or their respective PR company. The use of a review code does not affect my judgement of the game.

Tetris Effect on the Oculus Quest still looks, sounds and plays great on the standalone device. What is really amazing about the game is Enhance have kept the fundamentals of Tetris, but brought it to life excellently in Virtual Reality, bringing with it one the best game soundtracks out there. If you own an Oculus Quest this is completely an essential purchase – even if you own it already on another platform.